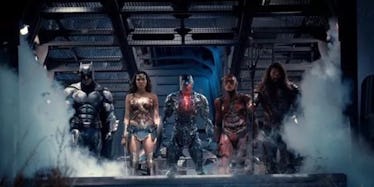 The Official Trailer For 'Justice League' Is Here, And It Looks Incredible
Warner Bros.
It's been nearly three years since DC first announced the epic superhero team "Justice League" would be made into an actual movie series.
Now, we finally have an official trailer for the film, which is scheduled to hit theaters in mid-November.
To say it's totally blowing our minds would be an absolute understatement.
Even though the incredible trailer debuted just today, director Zack Snyder has been crafting ideas for the movie for quite some time now.
He told USA Today,
The thing that's awesome about these icons is that a lot of them we haven't seen in the movies before on the big screen. It's kinda fun to really let (the actors) stretch their legs and inhabit those characters. It is a process to make a team out of this group of individuals, but for the greater good maybe they can put their differences aside.
The sneak peek begins by showing us Bruce Wayne (Ben Affleck), who emerges from the snowy shadows to assemble an awesome superhero team, so he can protect Earth from an upcoming attack.
Snyder said of Batman's character,
He's been a loner for certainly his crime-fighting career, maybe with the exception of Robin. When we meet him in 'BvS,' he's definitely at this low point of isolation. That was always our intention, that 'Justice League' would be this continuation for Batman to evolve into a more complete hero.
Joining Batman in the fight against evil are Wonder Woman (Gal Gadot), Superman (Henry Cavill), Aquaman (Jason Momoa), the Flash (Ezra Miller) and Cyborg (Ray Fisher).
The action-packed trailer promises "justice for all" amidst a killer montage of clips of the superheroes battling it out in the name of fighting all things evil.
Snyder is particularly excited for audiences to enjoy the collection of awesome personalities behind the cast of the superhero flick.
You have Jason stomping around as this inked hairy man, just this mythic figure. And you've got Ezra, who's full of life and hilarious and all over the place and amazing — a really fun and also poignant Flash. And Ray's story is in a lot of ways the heart of the movie.
"The Justice League" is scheduled to hit theaters on November 17, 2017.
Citations: Zack Snyder unites his supergroup in new 'Justice League' trailer (USA Today)