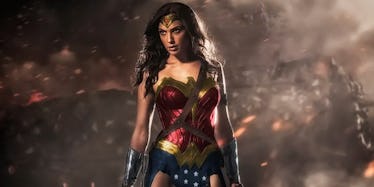 'Wonder Woman' Shattered Box Office Records, And Here's Why That Matters
Warner Bros.
Wonder Woman  — the first feature film for the iconic DC superhero, and the first ever female-directed superhero film — made roughly $100.5 million at the domestic box office this weekend, according to Box Office Mojo.
Add in the foreign box office of $122.5 million, and that's a $223 million opening weekend for Gal Gadot's version of Princess Diana.
Not to be dramatic, but this is huge freakin' deal for several reasons.
First, director Patty Jenkins just smashed the record for the largest opening weekend for a female director, previously held by Sam Taylor-Johnson for Fifty Shades of Grey's $85.2 million opening. So that's pretty dang cool.
And second, despite the character's legacy and impact, it's taken Wonder Woman nearly 76 years of existence to finally get her own film.
That's not for lack of trying — a Wonder Woman film of some sorts has been on the Hollywood development floor since the '90s, following the success of the popular TV series starring Lynda Carter.
But it could never quite get off the ground until now, because — according to pretty much everyone — film producers doubt people will pay money to see ladies with super powers.
If you don't believe me, listen to the film's director, Patty Jenkins, who recently told Cinemablend why it took so long to get this shiz made.
Jenkins said,
The only thing I can think of is that the genre became synonymous with young men, and so I think there was a concern that they wouldn't be as interested in a female lead and it's taken years for that to sort itself out.
Which meant that when Wonder Woman finally did get made, the pressure was on to prove these sexist Hollywood execs so, so wrong.
And ladies, I don't think it's premature to say... WE DID IT!
This weekend, Wonder Woman had a bigger combined domestic and foreign opening than the first Guardians of the Galaxy, Man of Steel, Thor, and The Avengers. 
In just one weekend, it's already earned more than any other female-led superhero film made in its entire theatrical run.
So what does this mean?
Well, we hope it means that Hollywood will wake up and realize women are ready and willing to spend money on films that are made by women, about women.
Realistically, we know it's probably going to continue to be a frustrating journey of "proving our worth" to the world.
But hey, we're superheroes. What could go wrong?