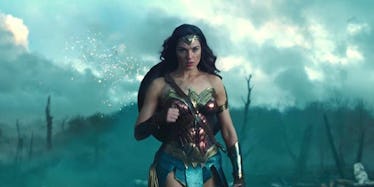 'Wonder Woman' Reviews Are In, And DC Comics May Have Finally Made A Winner
DC
When it comes to saving the DC Extended Universe, don't send in a man to do a woman's job.
It's no secret that although they've been super successful in the box office, DC Comics' recent string of movies has failed to impress most critics and many fans.
While Marvel has raked in accolades for injecting color and humor into its blockbuster superhero films, DC opted for dark, gritty re-imaginations with last year's Batman v Superman: Dawn of Justice and Suicide Squad, which were less well received.
But a new hero might just be DC's saving grace! The reviews are in for the studio's latest property, Wonder Woman, and it sounds like the comic book giant may have finally landed a critically beloved film in its extended universe. Critics are lauding the new flick as being more fun than previous DC installments and praising its star, Gal Gadot.
Check out what the critics are saying below.
Never prone to stewing in solitude, and taking more notes from Richard Donner than from Christopher Nolan, Patty Jenkins' 'Wonder Woman' provides a welcome respite from DC's house style of grim darkness — boisterous, earnest, sometimes sloppy, yet consistently entertaining — with star Gal Gadot proving an inspired choice for this avatar of truth, justice and the Amazonian way.
Had it really broken the mold and come in below the two-hour mark, 'Wonder Woman' could have been a thoroughly transporting film. As it stands, it's intermittently spot-on, particularly in the pops of humor and romance between the exotically kick-ass yet approachable Gadot and the supremely charismatic Chris Pine as an American working for British intelligence, the first man the Amazon princess has ever met. With eager fans unlikely to bemoan the film's length or its lapses in narrative energy, 'Wonder Woman' will conquer their hearts as it makes its way around the globe.
'Wonder Woman' is smart, slick, and satisfying in all of the ways superhero films ought to be. How deliciously ironic that in a genre where the boys seem to have all the fun, a female hero and a female director are the ones to show the fellas how it's done.
'Wonder Woman' is the best movie Marvel rival DC Comics has put out in its own cinematic universe, and unlike the recent parade of bleak superhero tales from both studios, it makes you feel good while you watch it.
Like the heroine at its center, 'Wonder Woman' the movie rises with powerful grace above the noise. It's not perfect, but it's often good, sometimes great and exceptionally re-watchable.
'Wonder Woman' proves to be an emotionally resonate film that won me over with its refreshing take on the superhero formula that featured something we haven't seen in the DCEU yet: a true, bona fide hero.
Watching Patty Jenkins' 'Wonder Woman,' I felt that same sense of overwhelming good emitting from Gal Gadot's portrayal as I did with Christopher Reeve's 'Superman.' Again, there's no hint of cynicism coming from Gadot's Diana (Jenkins, thankfully, doesn't even try to come up with a reason why anyone would refer to Diana as 'Wonder Woman,' so that title is never spoken) – we just know she stands for good. And, my gosh, is that a refreshing surprise. It seems in this ever-expanding cinematic DC Extended Universe, Wonder Woman will be playing the role of Superman – the true north of DC superheroes.
Wonder Woman lands in theaters on June 2.