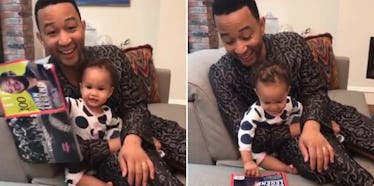 Chrissy Teigen's Video Of Luna Calling John Legend 'Dada' Is Absolutely Adorable
Snapchat
The Stephens family -- aka Chrissy Teigen, John Legend and Luna Simone Stephens -- are really giving the people what they want this week, and we're appreciative.
Over the weekend, Chrissy posted a hilarious Snapchat of herself rolling around on the kitchen floor while her assistant attempted to help with her hair extensions.
Chrissy's pain is our pain and it weirdly helped us start the week off right.
Then, John Legend went on "The Late Show with Stephen Colbert" and gushed about Luna and his wife, making us all melt into a puddle of goo.
Meanwhile, Chrissy stayed on top of her Snapchat game, posting hilarious videos recreating scenes from "The Devil Wears Prada" and encouraging her followers to troll John Legend.
And while we love watching Chrissy and John be goofy and gushy and adorable, what we really live for is footage of 1-year-old baby Luna -- which she gave us last night in this adorable video of Luna seeing John Legend's Time 100 cover and calling him "Dada."
(For those keeping track at home, Luna can also say "cat.")
I've already watched this video about 12 times and it's still not old. I mean, her voice, her smile, the laugh! Not to mention, John's laugh is pretty damn adorable, too.
John Legend was in New York City this week attending the Time 100 Gala where he performed.
Every little girl worships her dad, and obviously Luna's adoration has nothing to do with her father's mega fame, but one day she's going to realize she's not the only one inspired by John Legend.
In a video interview to accompany the magazine cover, Legend spoke out about why activism is so important right now.
He revealed,
I'm concerned about what's happening in America when it comes to race and racism. Obviously I was very disappointed with the outcome of the last election. I feel like our current president is actively working to take the country in the wrong direction, but I'm also heartened by the response that the American people have shown... I've seen the activism on the street. I've participated in marches. I've seen really a surge of interest in the political system.
Now I'm going to need to see a video of Luna recognizing her supermodel mom in a magazine and screaming "Mama" into the camera. Chrissy, if you could make that happen, I'd be eternally grateful.