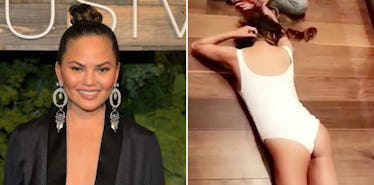 Chrissy Teigen Crying On Her Kitchen Floor Is All Of Us On Monday Morning
Charley Gallay /Snapchat
Chrissy Teigen is the only thing getting me through this flaming dumpster garbage of a Monday.
It's as if she knew I was in a bad mood and was like, "Here you go, Kelli, have some joy and merriment by watching these videos of me rolling around on my kitchen floor with fake hair stuck in my real hair. You're my main bitch, and you also look like you've lost weight. You're doing a great job."
Thanks, Chrissy. I have lost weight.
But enough about me and the fact that as I typed this sentence with one hand and held my coffee in the other I spilled said coffee all over my keyboard! This is about Chrissy!
Over the weekend, the 31-year-old queen of Twitter posted videos on her Snapchat that featured her in a white one-piece bathing suit rolling around and crying on her kitchen floor while her assistant tried to take out her hair extensions that were either placed way too well or way too shitty.
Either way, these extensions fucked up her night. But now it's brightening my morning! God, she's such a good friend.
This is me on most days.
Minus the skinny model part and plus a lot more self-loathing. <3
Her screaming "CUT IT" at her assistant is me every single time I get my hair cut and my stylist tries to make small talk.
I'M NOT HERE TO MAKE FRIENDS, SIMONE.
"Now hiring new assistant to take my hair out, 'cause this one sucks." Pick me. Choose me. Love me.
You can DM me on Twitter with the job description. And also follow me while you're at it @kellixboyle.
Now she's just crying face-down on her kitchen floor. Honestly, same.
But I'm not crying face-down on my kitchen floor because I have fake hair caught in my real hair. This is just my morning routine.
Chrissy, you should hire me. I am objectively the best person for the job and am in no way desperate for you to be my friend and also my aunt.
YOU KNOW CHRISSY TEIGEN WOULD BE THE BEST AUNT.
Hear that, people? All you need to do to apply is call 1-800-FUC-KOFF. (That's 1-800-382-5633.)
THIS JOB WILL BE MINE!
Citations: Chrissy Teigen Rolls Around in a Swimsuit While Her Assistant Tries to Take Out Her Hair Extensions (ET Online)