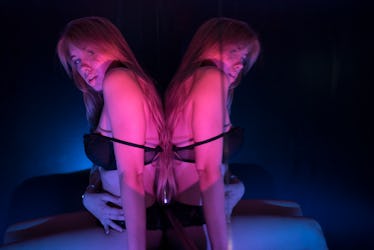 Here's How Often You Like To Have Sex, Based On Your Zodiac Sign
A Cancer's sex drive is surprisingly high.
François Ferracci / EyeEm/EyeEm/Getty Images
If you've ever dated a Scorpio, you probably know that astrological signs can tell you a lot about a person's sex drive. Have you ever wondered about how your sign affects your sex drive? If so, you're in luck. To find out how often each zodiac sign likes to have sex, stay tuned. Not only will learning about the different zodiac signs' sex drives teach you about yourself, but it can also help you navigate sexual relationships.
When it comes to negotiating your sex drive in comparison to a partner, finding a balance is part of maintaining a healthy relationship. According to Dr. Jessica O'Reilly, a sex and relationship expert, "Compatibility isn't something you find, it's something you cultivate, so you can make things work even if you experience different levels of sexual desire."
O'Reilly also adds that stress levels, medications, menstrual cycles, relationship duration, relationship satisfaction, communication, sleep habits, exercise, fitness, mood, and hormone levels can all affect a person's sex drive. That's a lot to factor in. "You can be perfectly healthy and want sex once a year, or not at all. On the flip side, you can be perfectly healthy and want sex all the time," she says. Every couple can also become sexually mismatched at some point in time, she adds. Even if you work well together at first, things can shift over time, so she stresses that it's important to talk about sex with your partner throughout your relationship. Don't be shy. Communication is key.
When it comes down to it, numerous factors can influence your sex drive, and you and your partner's signs could show you a lot about how you work together. An Aquarius sex drive may be completely different than a Pisces sex drive, but understanding where you're both coming from can help you find the perfect solution for everyone involved. If you want to get a full analysis of your sexual desires, you might also want to consult your full birth chart.
Kristina Semos, an astrologer and owner of AstroOils, says that your sex life can come through when you're looking in your fifth house (your inner child), seventh house (partnerships), and eighth house (transformation) of the 12 houses in astrology as well. That's why not every Gemini is exactly the same, and why two Capricorns may want to have sex at very different rates. Everyone is unique, but if you wan to see how your sun sign can influence your sex drive, check out the following predictions!
By knowing both your sign and your partner's sign, you can make sure you maximize your compatibility both inside and outside of the bedroom. Hopefully, whatever your sign, your sex life is exactly the way you want it. And if it's not, maybe the universe has something exciting in store for you.
Experts:
Dr. Jessica O'Reilly, sex and relationship expert
Kristina Semos, astrologer and owner of AstroOils
Lisa Stardust, astrologer
Cindy Mckean, astrologer
Editor's Note: This story has been updated by Elite Daily Staff.
This article was originally published on