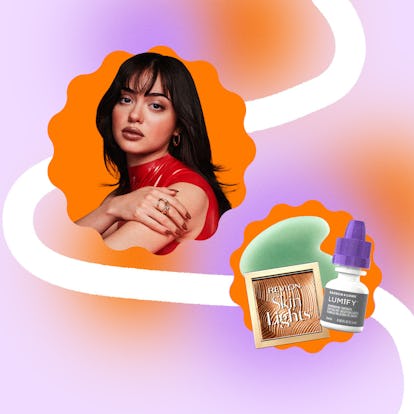 Nailea Devora's Beauty Routine Includes Hacks From TikTok & Bella Hadid
The model also shares the look she'd wear to see BFF Sabrina Carpenter at the Eras Tour.
We may receive a portion of sales if you purchase a product through a link in this article.
In Elite Daily's One Nightstand, your favorite celebs and influencers spill allllllll the details about their holy grail beauty products — the select few they always have within arm's reach on their nightstand. In this installment, content creator and new Revlon brand ambassador Nailea Devora shares her go-to beauty routine, the TikTok trend she's currently obsessed with, and the look she's hoping to wear to Taylor Swift's international Eras Tour.
One minute, Nailea Devora is stunning at Paris Fashion Week with bestie Sabrina Carpenter; the next, she's celebrating being named Revlon's newest brand ambassador at a swanky restaurant in Beverly Hills. This is just the start of her October. The 21-year-old content creator and model has come a long way since she first began posting YouTube videos in 2019. Now, with more than 3 million subscribers on YouTube and 8.9 million followers on TikTok, Devora is poised to be the next it girl of fashion and beauty.
Sitting down at her party in Los Angeles, Devora tells Elite Daily the secret to her success: "Staying authentic and true to yourself." And the social media star has a solid BFF crew to turn to, which includes fellow creators like Larray and Dixie D'Amelio, as well as one of Taylor Swift's newest squad members, Carpenter. Devora even plans to support the Emails I Can't Send singer by making an appearance at one of the international stops on the second leg of the Eras Tour. "I literally, really am dying to see Sabrina open for Taylor," she says.
As for the era she'll be channeling at the show: "I would do a red lip because of Taylor Swift's Red album, and maybe a cat eye with it."
For her everyday vibe, Devora says she's inspired by Jane Birkin (the actor-singer who inspired Hermès' famous Birkin bag), "Kate Moss core," and '90s supermodels, but she's open to anything. "I don't like picking just one aesthetic to stick to. Why pick one thing when you can do a little bit of everything?" she tells Elite Daily. "That's what makeup is for — just tapping into all the different sides of you."
Below, you'll get a taste of how Devora taps into these different sides of herself using three of her holy grail beauty products.
The Beauty Product That Gives Nailea Devora Her Gorgeous Glow
Like Megan Thee Stallion and Emma Stone, Devora is a Revlon girlie, so her makeup routine includes a few of the brand's bestselling products like the Sharp Line eyeliner, ColorStay Lip Liner, and lipstick in the shade Nude Fury. The one product she's been using "like no other" is Revlon's SkinLights Bronzer. "I want to look tan. I want to look like I was out in the summer, [even though] I wasn't," she says.
The bronzer comes into play for Devora after she's done her foundation, concealer, and powder; the fashionista likes to "go in with bronzer" to give her face a natural-looking glow.
The Best Beauty Trend She Picked Up From TikTok
Devora is not just posting on TikTok; she's also scrolling through her For You page for beauty inspo. "I've really hopped on the gua sha trend because of TikTok," she tells Elite Daily.
After trying the massaging tool for a week, she says she saw a "significant" difference in how snatched her cheekbones looked. "TikTok definitely influences me a lot," she says, admitting she'll go to the "more reliable" FYP over Google when she wants to know more about a product.
The Go-To Product She Uses At The End Of Her Routine
While most people will end their makeup routine with some setting spray or powder, Devora's final step includes Lumify Eye Drops. "Those are literally a go-to after my makeup," she says. After admitting she "was going to sleep at 7 in the morning" during Paris Fashion Week, Devora shares her two big secrets to looking more awake were these eyedrops and putting her "face in a bowl of ice and water."
The ice bucket hack was something she picked up from Bella Hadid; not only is it meant to provide a glam pick-me-up, but it also can help with any swelling. Hey, if it's good for Hadid and Devora, then it has to be *good*.