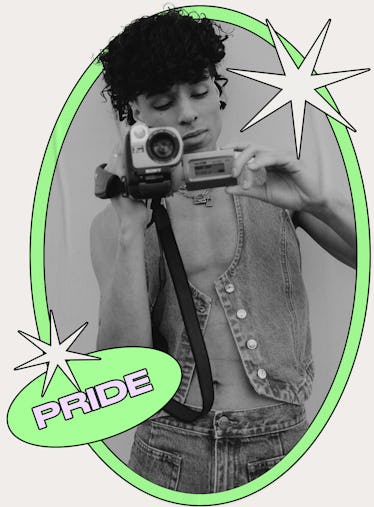 If It Wasn't For YouTube, Larray Would Probably Still Be In The Closet
He wants to be there for his fans just like a member of Blackpink was there for him.
Larray — aka Larri Merritt — is best known for being unapologetically himself online, but that wasn't always the case offline. Before YouTube and TikTok, Larray struggled with his LGBTQ+ identity and finding a community to be a part of. It took seeing other content creators to help him break out of his shell, and now, he's hoping to do the same for his fans.
With more than 41 million followers across YouTube, Instagram, and TikTok, the 24-year-old content creator doesn't let his online fame distance him from his fans. In fact, he's been known to give out his phone number to those in need. In this as-told-to below, Larray shares why he wants his fans to feel the support he always wished he had growing up and where he's taking his career next. (Hint: The "Canceled (Remix)" diss track he dropped on May 31 is just the start.)
My content creator journey started with me finding myself in high school. In 2014, I saw a lot of creators who were a part of the LGBTQ+ community who were posting, being themselves, and just having fun with it. I looked up to those people, such as Tyler Oakley, Shane Dawson, Lohanthony, and my best friend Issa Twaimz. I was obsessed with how they were so happy, youthful, and living their best lives, so I tried making content.
I filmed my first YouTube video at home after getting into an altercation with this homophobic kid in my class in 2016. I was so annoyed and upset that the teacher took his side, so I turned on my camera and just started talking about it. There were no questions asked.
The video isn't on my channel anymore, but it was just me being myself and really expressing what I wanted to say to him. After posting, it felt weird. I had an anxiety attack thinking about people I knew in real life finding the video. If they did, I was going to be so embarrassed. But I knew I wanted to create content and in order to get myself to where I wanted to be, I had to put myself in an uncomfortable position. It shaped me into doing it religiously.
I've learned that you can't fully love yourself if you don't love your younger self or your past self.
If you asked me to re-watch that first video, though, I'd tell you I would rather walk on Legos barefoot. But I've learned that you can't fully love yourself if you don't love your younger self or your past self. That's how you grow as a person. I just think that version of me was cringey.
Those first few videos were poorly edited. I did them all on my phone, and you can tell watching them that I was still in the closet. Then, eventually, I started to figure out who I was. I started to find my sense of humor, my sense of style, and just what works for me.
Joining the Hype House in 2020 was one of the coolest experiences of my life. If you grew up watching me, you'd never expect me to be a part of a TikTok creator house, but I didn't get to experience that much as a kid. Having a group of friends was something I lacked in high school because I had a strict father, so it was so fun having friends and new energies to bounce off of.
I didn't really make videos with them that much. I kind of was just there for the vibes and the plot. I really wish I would have taken more advantage of my time in the Hype House and made more videos with them for the memories, but it was definitely fun to just be a part of. My time honestly inspired me more for my own content.
Every YouTuber and creator is always like "Post frequently, post religiously," but I've always posted when I wanted to. I think my subscribers really appreciate that. A lot of creators do get burned out quickly because they want to post weekly, but I'm a strong believer in quality over quantity. Every video I make, it's like my child. If my video's not perfect, it's not going up. And coming up with new ideas isn't hard. There's something I can always take from my day and turn it into a YouTube video.
Also, if there's something I want to do in real life but I'm too embarrassed to do it, I'll do it on YouTube. My channel helps me find ways to express myself. If it wasn't for YouTube, I'd probably still be in the closet. Knowing that my videos help other people who were once in my shoes, and that are possibly still in my shoes, drives me to post more.
Those content creators I looked up to helped me through my days because I was in the closet, and I feel like I'm that person for younger kids nowadays that are struggling with the same thing. I know how my fans think, and we built a community where we get each other. The outside world doesn't get us, but we do. Seeing them sad is just like seeing your best friend sad. I gave out my number to a few fans that were really going through some tough times so if they needed anything they could reach out. I've taken them to Six Flags, which was really cool, and we just went to Universal Studios, too.
I just want to give them the best experience ever. It takes two seconds to reply to a DM, take a picture, or even just leave a simple voice memo. It makes somebody's day. I remember I was having a terrible day and my friend invited me to dinner. At the restaurant, Jennie from Blackpink was there, and she paid for our dinner. She was so sweet, and that literally made my entire week. If I can impact someone's life the same way, then I'm going to do it.
If any of my fans are having a rough time right now or are being bullied, I'd let them know that feeding into someone's negative energy isn't going to make them feel any better. It's honestly probably just going to level out the playing field. The best revenge is just ignoring them and focusing on yourself. Blowing them a kiss when you're rich and successful will make it all better.
I'm having fun right now with making music, and I feel like when you listen to a Larray song, you feel like a bad*ss b*tch. Every song I've made is uplifting and shows you "D*mn, I'm a bad*ss b*tch. Why am I tripping over this guy, this girl, or this person when I'm literally A, B, and C?" That's what I make music for. I'm not out here trying to win a Grammy. I'm just trying to make the girls feel good and the gays feel better. I'm living my best life, and I want my fans to live theirs, too.
This interview has been edited and condensed for clarity.