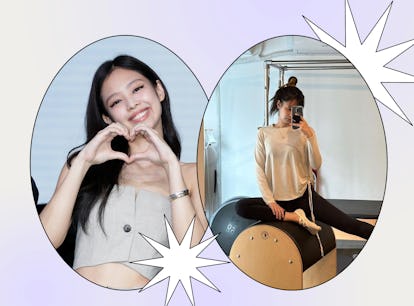 Feel Coachella-Ready With Jennie From BLACKPINK's Pilates Workout
Han Myung-Gu/WireImage/Getty Images/Instagram/Elite Daily
BLACKPINK is about to light up the Coachella stage in Indio, California. This isn't the first time the K-pop group has performed at the music festival, but this is the first time they are headlining it. To prepare for the big performance, Jennie Kim from BLACKPINK has been getting into shape and inspiring fans with her Pilates-based workout routine on Instagram. A TikToker decided to share a modified version of Jennie's Pilates routine that you can do at home without equipment, and it's going viral.
Jennie's Pilates workouts at Modern Pilates International in Singapore are often done on an apparatus like a Cadillac Reformer and Pilates Barrel. Most of us don't have the space or money to build our own Pilates gym with all the same equipment, but there are ways to perform the same Pilates exercises and get a similar burn with just a mat.
TikTokers are sharing a version of Jennie from BLACKPINK's Pilates routine that she's done to get ready for Coachella that requires zero equipment. It's so easy to follow along wherever and whenever. This workout is especially perfect for BLINKS who are planning to live it up this festival season. Just throw on a playlist with "Pink Venom" and "Shut Down," so you can get extra hyped as you sculpt.