Who's that girl on the billboard?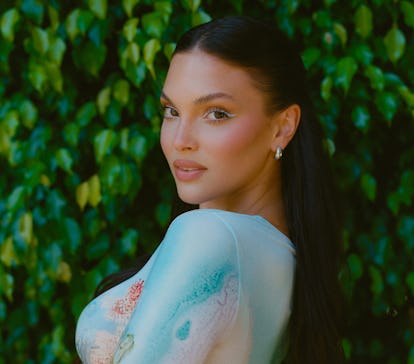 Even Lady Gaga Is A Fan Of Kensington Tillo's Candid TikToks
The beauty influencer feels like she got a "cheat code."
Photographs by Shanelle Infante
With how seamlessly she can apply a full face of glam, it's clear that Kensington Tillo — aka Kensnation on TikTok and Instagram — was born to be an influencer. Fans often fill her comment section wanting to know her latest contour technique or the lip liner she's using (Tower 28 OneLiner, by the way). Though she has 1.6 million followers on TikTok, Tillo tells Elite Daily she still finds it wild when someone admits they learned how to do makeup from her. "I am like, 'It's working. I'm being an influencer.'"
Even sitting down with Tillo at our shoot in West Hollywood earlier this month, I was selfishly taking notes of what to grab at Sephora — like Tarte mascara and Charlotte Tilbury Contour Wand. The 23-year-old content creator arrived with makeup already on, which included what everyone on set described as a "galactic slay" graphic liner. The liner in question? It was from James Charles' Painted collection. She wasn't around to attend the launch party recently, but had a very good excuse why — she was at Taylor Swift's Eras Tour in Los Angeles. Tillo, who showed me her subtle "1989" tattoo on her arm, was actually at the show where Swift announced 1989 (Taylor's Version). ("Concerts have always been my happy place and just seeing Taylor in person was crazy," she says.)
Makeup may be where Tillo has landed, but the Colorado-born influencer actually dreamt of being a pop star like Swift when she was younger. "I think that's what helped me get comfortable in front of cameras," she says. She also grew up watching Michelle Phan YouTube videos and digging through her mother's skin care, which ultimately drew her to the beauty world. After following in her mom's footsteps of becoming a model, Tillo did all sorts of modeling jobs. "My favorite ones were the beauty ones," she says, "so it's always kind of been a thing for me."
Making money from content creation was another story, though. In 2016, Tillo had her first viral moment with a selfie she posted on Instagram. While that gained her a large following, she was modeling full time (which brought her to L.A. in 2017) and only had an occasional paid post. It wasn't until 2021 that Tillo actually started making a livable income from TikTok. Once she found success on the FYP making GRWM videos and makeup tutorials, she was able to quit modeling. Now, she says she's found her dream job. "I still feel like a Sim," she says. "I feel like I got a cheat code, and it's crazy. I say it all the time: My life doesn't feel real."
With her rise to TikTok fame over the last two years, Tillo has had the opportunity to meet several celebrities like Selena Gomez as well as Kylie and Kendall Jenner. The latter have even joked with the content creator that she could be their third sister, and having seen her IRL, the resemblance truly is uncanny. While Tillo says every celebrity interaction has been a pinch-me moment for her, one of her favorites this year has been with Scarlett Johansson. At an event for Johansson's skin care brand, The Outset, the Black Widow actor asked Tillo how she's able to keep her skin looking so good. Along with great genes, Tillo shared that she drinks a lot of water — to which Johansson replied: "Water actually doesn't help your skin."
In addition to the celebs she's already met, Tillo says she'd love to work with Lady Gaga — and the two already have a bit of a connection. The content creator isn't shy about sharing her feelings on TikTok, which sometimes includes those days when she's overwhelmed. On a day in June when she was especially frustrated, Tillo took to TikTok to talk through those feelings. The video, which now has more than 2 million views, was seen by Lady Gaga, who commented, "I know it doesn't feel like it right now but you will feel better and you will be OK — this feeling will pass."
"That is the most insane full-circle moment," she says. Tillo, who grew up going to every single Lady Gaga concert with her brother, has even heard that the "Born This Way" singer is a fan of her videos. "I can't imagine Lady Gaga just sitting on her phone watching me talk and drinking her morning coffee," she says. For 2024, Tillo is manifesting a chance to finally meet and work together with the Haus Labs founder.
It's just a constant wanting to impress people 24/7 and the fear of people falling out of love with you.
Gaga isn't the only one who loves Tillo's raw videos. Earlier this year, the content creator went viral for deciding to listen to her body and leave Coachella a day before her brand trip was scheduled to end. Many applauded her for taking care of herself, making TikToks defending her choice ("I'm pretty sure she doesn't need the whole entire Internet coming on and giving her sh*t about it when I'm sure she was bummed about it," one user said in a video). But Tillo also received negative feedback, with some saying she was she was privileged or just hungover.
"I've always been really open with my mental health and anxiety," she says. Tillo says that the people most confused about why she was leaving early were those who have never attended the four-day music festival in the desert. "Coachella is a lot," she admits. "The second you get on that party bus and dropped off at the festival, you are not finding a way home for eight-plus hours."
She jokes that it shouldn't be surprising to anyone who knows her that she couldn't handle Coachella. "I am a very sensitive person," she says. "I get overwhelmed very quickly." However, the influencer would love to try the festival again now that she knows what to expect — but this time, she'll happily buy her own ticket.
With creators pulling back the curtain on influencer brand trips more and more, these luxe experiences have been making headlines lately. "I've been on some brand trips where it's been a lot more wholesome, but I've also been on some where it's bottles of tequila every single night," she says. "It's kind of like go, go, go, with a strict itinerary." But there's one thing that Tillo says is always true of these trips: "Everyone is a lot nicer than you would think." She's even made friends with fellow content creators like Meredith Duxbury and Xandra Pohl. "Every single person that I've met on these trips, I am now friends with," she says. She even goes to them with questions about makeup or the content creator lifestyle.
While she still deals with deadlines and stress just like any other 9-to-5, Tillo knows that there's privilege that comes with being a viral content creator. She's not shy about that, but she still wishes some people understood that with it also comes responsibility. "It's a lot mentally, and it's just kind of putting my life out there and having to keep up my presence," Tillo says. Posting online, which she tries to do almost every single day, can also be competitive since she knows how many people dream of doing what she does for a living. If you have to take one day off for your mental health, that could be the day someone steps in to take your place on the FYP. "It's just a constant wanting to impress people 24/7 and the fear of people falling out of love with you," she says. "After that, it's like what do you have?"
But right now, Tillo is feeling the love. As her audience grows, she's able to secure more brand deals, like starring in her own Kosas campaign. As a fan — especially of their foundation, which is her go-to — working with the brand was a dream come true. She almost didn't believe them when they first introduced the idea at the beginning of the year, but by June, Tillo could check off having her own billboard on Sunset Boulevard. "That was one of my career goals," says Tillo, who flew her family out to see it. She even jokes that she would walk back and forth, cheekily pointing out "Who's that girl on the billboard?"
Tillo isn't planning on stopping any time soon. The content creator's goals include everything from working with Rihanna to being a part of a YSL or Charlotte Tilbury campaign. She also mentions starting a lifestyle YouTube channel, and she's already proven she can dominate longer content after posting a 10-minute GRWM on her TikTok recently. When I ask if a musical career is ever an option, considering she grew up singing, she laughs, "I let that ship sail." However, if Swift ever needs someone to harmonize on one of her 1989 (Taylor's Version) vault tracks, Tillo is so down.
Photographs by Shanelle Infante
Photo Director: Alex Pollack
Editor in Chief: Charlotte Owen
SVP Fashion: Tiffany Reid
SVP Creative: Karen Hibbert