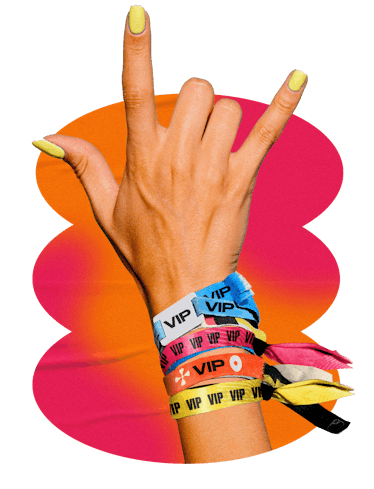 Which VIP Music Festival Tickets Are *Actually* Worth It?
The red carpet perks have changed over the years.
Lindsay Hattrick/Elite Daily; Getty Images; Shutterstock
Luxe treatment or not, getting to see Dua Lipa, Harry Styles, or Bad Bunny headline a music festival's main stage is a bucket-list experience. But after standing for hours in the hot sun, fighting through sweaty crowds to get food and drinks, and waiting in long lines for smelly portable toilets to open up, springing for a VIP (aka expensive AF) ticket at Coachella, Lollapalooza, or any other big music festival can start to look so. much. more appealing. Of course, not all outdoor concert experiences are created equal — some VIP music festival tickets come with better views of the performances; others, you're basically paying for air-conditioned bathrooms. Since VIP perks (and prices) have changed a lot over the years, I decided to investigate some of the most recent events to find out which VIP music festival tickets are actually worth the splurge and which ones are better off as general admission.
Skipping past hundreds of people waiting to see DJ LP Giobbi at Coachella's air-conditioned Yuma Tent this year on Palm Springs' hottest day so far, I couldn't imagine not having VIP access. My Coachella VIP ticket — given to me as part of Marriott Bonvoy's music-centric "Roam Around The World" campaign with W Hotels and LP Giobbi, who DJ'd a cover of the B-52's "Roam" for the initiative — shielded me from some of the 100-plus-degree desert heat, thanks to shaded areas with sprinklers and well-kept bathrooms with A/C. But full bars and easy access to refreshments aside, I was surprised that compared to a $549 GA ticket, my VIP ticket, valued at $1,069, didn't include any discounts on the festival's grossly overpriced food ($20 for a slice of pizza?!) and drinks, better parking or transportation options, or VIP viewing areas for some of the bigger stages. And Coachella's far from the only big-ticket experience to not meet attendees' expectations.
Since all red carpet packages couldn't possibly be hype-worthy, I, along with six other festivalgoers, weighed in on the perks of VIP experiences at Coachella, Lollapalooza, and Governors Ball, as well as which experiences are actually worth the upgrade.
Coachella
Coachella 2023 GA Ticket Price: $549 for a three-day pass (without fees)
Coachella 2023 VIP Ticket Price: $1,049 for a three-day pass (without fees)
Arguably the mother of all music festivals, Coachella is as much about the fashion and the scene as it is about seeing some of the biggest musicians live. More than 150 artists performed this year, including Blackpink, Bad Bunny, The Kid Laroi, Charli XCX, and Frank Ocean.
Coachella VIP Food & Drinks
Despite the pricey tickets, Coachella VIP doesn't include free food and beverages. The main differences between Coachella VIP and GA are access and wait times. "There was a section with free popsicles, but it's a lot of the same food carts, just in a different area," Toby Kaplan, 33, tells Elite Daily about his experience in 2022, adding, "You do have shorter lines for the most part, though." Many restaurants this year had both VIP and GA stalls, but there were a few that you could only get in the VIP section like The Nice Guy, Camphor, KazuNori, and Prince Street Pizza.
Ordering cocktails, coffee, and non-alcoholic craft drinks was much easier if you paid extra for your ticket. In Coachella's VIP areas — the Rose Garden and the 12 Peaks Tents — this year, you could get beverages from hot spots like Chamberlain Coffee, Delilah, and The New Bar non-alcoholic craft cocktail space. I visited the VIP cocktail bars due to the extensive selection and shorter lines. While lemonade and beer were plentiful in GA, the other offerings had pretty limited menus and extremely long lines.
Coachella VIP Viewing Areas
At many sporting events or concerts, the VIP area isn't necessarily the one that's closest to the action, and that unfortunately rang true for my Coachella experience. I actually left the VIP area to get a better view of Labrinth, Zendaya, and Sia in GA! The main benefits of having VIP access were that I didn't have to arrive early to get a somewhat decent view of any artist, and that I had plenty of space to move around. "Coachella Weekend One is usually sold out, so unless you're in the VIP section, you're crammed into a huge crowd," Toby says. "Your view is only as good as you're willing to wait in line," he adds of GA.
For me, a casual fan of Bad Bunny, it was great seeing the "Where She Goes" rapper's set far up on the left side of the Main Stage in the 12 Peaks VIP area, but avid fans of Benito who wanted to be as close to the stage as possible might've preferred GA so they could scout out a spot up front.
Coachella VIP Amenities
I wasn't prepared for the toll three days of Coachella took on my body. Weekend Two's dustiness, paired with extreme Palm Springs temperatures during the day and night, was a lot to handle. The A/C and cold water in the VIP bathrooms felt incredible after standing out in the sun for hours, and it was great skipping the long line to the air-conditioned Yuma Tent during the day. While GA also had water stations, sprinklers, and shaded seating areas, they were much more plentiful in VIP.
One amenity that would make VIP much more worthwhile: unlimited golf cart access to get around the different stages. (You have to purchase this separately as part of the $11,000 Safari Pass, or it comes with Artist passes.) Kate Gianurco, 33, who went to Coachella this year, says adding golf cart access to VIP tickets is a game-changer because of the event's setup. "When you get to the festival entrance, you have to walk 40 minutes along a fence just to swipe your wristband," she says. "Over a Coachella weekend, you're walking about 54 miles, and you're destroyed. You're limping by the end of each night."
Is It Worth Getting VIP Tickets To Coachella?
It was unusually hot at Coachella this year, so having VIP access definitely made the experience more comfortable for me. Thanks to the easy access to cold water, shaded areas, and A/C, I was able to stay at the festival longer instead of heading back to the hotel in the afternoon. However, if you don't really care about the earlier performers or more F&B variety, getting a GA ticket and heading to the festival later in the day so you can save your energy and beat the heat would probably be your best option.
Lollapalooza
Lollapalooza 2023 GA Ticket Price: $125 for one-day pass (without fees); $250 for two-day pass (without fees), $365 for four-day pass (without fees)
Lollapalooza 2023 VIP Ticket Price: $500 for one-day pass (without fees); $1,500 for four-day pass (without fees)
Taking place over four days at Grant Park in Chicago, Illinois, Lollapalooza 2023 will feature more than 170 musicians like Billie Eilish, Kendrick Lamar, Odesza, Lana Del Rey, and The 1975 from Aug. 3 through Aug. 6.
Lollapalooza VIP Food & Drinks
Lollapalooza's VIP passes don't include food and beverages, but they used to. Lindsey Simon, 29, who's gone to Lollapalooza every year since 2010, says the VIP F&B situation — which now comprises mainly shorter lines and brand pop-ups — has seen a major downgrade the last few years. "Before, they had all-you-can-eat buffets, random snacks, wine tables, and coolers filled to the top with free alcohol," she says. "Every year, I get so mad seeing the price of VIP tickets increase by $25 or so with nothing extra." Last year, four-day Lollapalooza GA tickets cost $350 in 2022 ($15 less than in 2023), but the $1,500 four-Day VIP tickets cost the same this year. The festival also eliminated the three-day ticket bundles it's had in previous years.
When I went to Lolla with a VIP ticket in 2022, I was struck by how inexpensive the food turned out to be. (My meal cost just over $10.) The only "better" option was the Platinum package, which has all-you-can-eat-and-drink... for almost three times the price(!) of a VIP pass. Definitely not the vibe for the everyday person. GA and GA+ are pretty similar when it comes to food and drink — the only difference is that, for $310 more, GA+ includes access to a lounge with one dedicated bar, in addition to air-conditioned bathrooms and seating areas.
Lollapalooza VIP Viewing Area
Lollapalooza VIPs previously had access to an elevated platform on the side of the two main stages. Jack Gleason, 33, who attended the event in 2021 and 2022, argues that the elevation of the viewing platform actually gave VIP fans an advantage by separating them from the floods of people at the festival. "It's nice to see the full stage from the elevated stands, which you can't really do when you're in a mosh pit on the ground," he says. "You can see the actual performance instead of looking at the big screen, and the the sound is better because you're above the crowd noise."
This year, VIP has a designated ground section, which might be more attractive to music lovers who want to avoid GA crowds while being closer to the performances. Lindsey says the main issue with the elevated area was that it was a couple hundred yards away from the stage. "The VIP section was typically further back than most of the GA crowds," she says. "Plus, the couple hundred people in VIP were smashed together on the small viewing platform."
Lollapalooza VIP Amenities
According to the festival's official website, Lollapalooza's 2023 VIP experience includes air-conditioned bathrooms, lounges with beauty and wellness treatments, lawn games, a premium entrance, and golf shuttle transportation around the festival. "The VIP lounges have massages, braid stations, and even places to get your nails done," Lindsey adds. "However, you're paying for that on top of your VIP ticket."
Having everything you need to look and feel festival-ready for Lollapalooza is a nice perk, but free access to in-park transportation is a game-changer for seeing headliners — and cutting down on all the walking you have to do around the venue. "The best part of VIP is getting from one stage to the other in a minute with the golf cart — you can see two headliners essentially at the same time," Michael Marks, 29, says about going to Lollapalooza in 2019. "The convenience was unbelievable when I went to see Meek Mill, especially since I was in a big group where everyone wanted to see different people."
Is It Worth Getting VIP Tickets To Lollapalooza?
Golf carts and air-conditioned bathrooms aside, the new viewing section gives one of the strongest cases for getting VIP tickets to Lollapalooza. It's right behind Platinum at the front of the stage (without Platinum prices), and you have one of the best views of the headliners without having to deal with the push and shove of GA. This also means that those with GA tickets will have a worse viewing experience, due to there being one more section of people in front of them. If it's in your budget, Jack recommends splurging for one day of VIP access over more days in GA. "I think if you really want to enjoy an awesome live music venue in the best setting and make one day out of it, it's completely worth it," he says.
Governors Ball
Gov Ball 2023 GA Ticket Price: $129 for a one-day pass (without fees); $279 for a three-day pass (without fees)
Gov Ball 2023 VIP Ticket Price: $269 for a one-day pass (without fees); $609 for a three-day pass (without fees)
Held at Flushing Meadows Corona Park for the first time this year, Governors Ball — located in Queens, New York City, minutes away from the event's 2022 location at Citi Field — had a stacked, genre-spanning lineup including Lizzo, Kim Petras, Odesza, Kendrick Lamar, and Lil Nas X.
Gov Ball VIP Food & Drink
Gov Ball's 2023 VIP pass didn't include food or drinks (other than a complimentary spa-like water station with citrus flavors), but VIP ticket holders could get exclusive access to specialty eats this year like Luke's Lobster, Cento Percento, and The Pizza Cupcake. Hannah Kerns, 26, who went to Gov Ball this year, says drinks were reasonably priced at the festival — around $15 for a cocktail and $13 for a glass of wine, which is about the same as regular NYC prices — but the food was expensive in both the GA and VIP areas. "A slice of pepperoni pizza was $10, and there were lobster rolls for over $30," she says. "I stuck to Stella Artois tallboys ($14) since it was such a long day."
While there were doubles of beverage stands like Aperol in both GA and VIP, Gov Ball VIP ticket holders actually had to go to GA for access to certain NYC-favorite food trucks and eateries like Halal Guys, Mao's Bar, Doughnuttery, Van Leeuwen Ice Cream, and Roberta's Pizza.
Gov Ball VIP Viewing Area
Governors Ball's venue change to Flushing Meadows Corona Park instead of Citi Field also upgraded the VIP viewing areas. Kelsey Stiegman, 29, who went to Gov Ball in 2019 at Randall's Island Park and in 2022 at Citi Field, says the stage determined how good your view was for both venues. For example, she says, "The VIP area near the main stage was pretty far behind the audience."
This year, VIP ticket holders got to be right by the performers. "Half of each stage was reserved for the VIP viewing area," Hannah says. "For most of the performers, this space was a lot less crowded than GA, which had a lot of people pushing to the front. It was easier to get a good spot, especially if you want to take bathroom breaks."
Gov Ball VIP Amenities
While it's always nice to be considered a very important person, Hannah says "nothing really screamed VIP" about the so-called exclusive amenities and tents this year; a small stand of freebies with hair ties and other concert essentials, as well as free SPF and hand sanitizer, does not an exclusive experience make. "There were large tents with plenty of comfortable couches that are all up for grabs, as well as access to food and the nicer bathrooms," she says. "There was supposed to be phone charger access, but I didn't spot any charging stations."
Is It Worth Getting VIP Tickets To Governors Ball?
You could get a comparable view of a headliner in GA as you could in the VIP area, so it really comes down to the comfy couch and clean bathroom access. Similarly to Lolla, if there are only a few performers you want to see, you might have a better concert experience doing one day of VIP access instead of doing a whole weekend in GA. Otherwise, stick with the basic ticket.