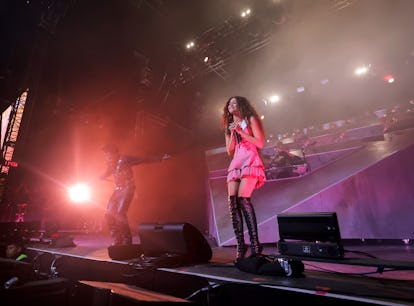 Zendaya Surprised Everyone By Making Her Pop-Star Comeback At Coachella
"Thank you all for welcoming me back on stage with open arms."
Michael Loccisano/Getty Images Entertainment/Getty Images
Coachella officially became Zeychella in 2023, and nobody saw it coming. Late into the night on Saturday, April 22, Zendaya surprised festivalgoers by storming the stage to perform two songs, marking her return to the music stage after seven years away. Here's how to watch Zendaya's surprise Coachella 2023 performances with Labrinth, because they seriously brought the house down.
Labrinth's set for the second weekend of Coachella 2023 was even bigger than anyone expected, as he brought out some high-profile collaborators to join him on stage. Sia and Maddie Ziegler came out to perform "Thunderclouds" with him, but the biggest shock of all was Zendaya picking up a mic to belt out two of her Euphoria hits: "I'm Tired" and "All for Us." Zendaya first strutted onto the stage when Labrinth started performing "I'm Tired," the emotional ballad he co-wrote with Zendaya that was featured in Season 2 of Euphoria. Labrinth serves as the composer for the hit HBO series, and has frequently collaborated with its star Zendaya on the original music featured in the buzzy teen drama. Although Z didn't perform too much of the song, her arrival on stage was met with an uproar from the Coachella crowd.
Things really picked up afterward, when Zendaya began performing "All for Us," the uptempo groove her character Rue sang in the Euphoria Season 1 finale.
The performance was monumental for fans, since it marked Zendaya's first time singing live music in seven years. She last performed on stage back in 2016, and since then, she's shifted to focusing more on her acting career than on music. Social media was quickly flooded with posts supporting her musical comeback, along with hopeful requests to perform throwback hits like "Replay."
After the show, Zendaya hopped on her Instagram stories to share her gratitude for the love from the Coachella crowd. "Thank you all for welcoming me back on stage with open arms. It's been a very long time, so I appreciate it," she said.
Hopefully, the Coachella surprise could lead to more music from Zendaya in the future, but fans will just have to wait to see about that. At least it seems likely that Euphoria Season 3 will include another musical moment for Zendaya, given her frequent collaboration with Labrinth.