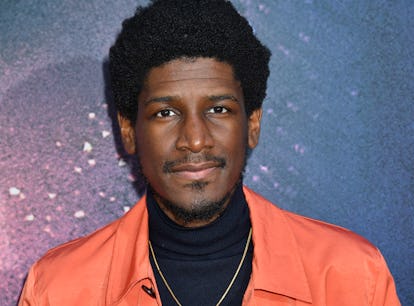 Labrinth & Billie Eilish's "Never Felt So Alone" Is A Total Banger
"I could never be more alone than when I ain't got you here."
Jeff Kravitz/FilmMagic, Inc/Getty Images
Euphoria darlings, the wait is over. After two years, Labrinth finally released a song that's been haunting viewers since 2021, titled "Never Felt So Alone." This new single originally appeared in Rue's (played by Zendaya) special episode after Season One. The snippet only featured Labrinth singing one line over its atmospheric production; however, it was still dreamy enough for fans to want the full version. The singer eventually fleshed out the track, but this time with a new special addition: Billie Eilish.
In an April 7 interview with Eddie Francis on Apple Music 1, Labrinth revealed he originally created "Never Felt So Alone" with Eilish's brother Finneas. As they were adding the finishing touches, Labrinth believed Eilish's gothic sound would complete the vision he had for the track.
"Once I started piecing the song together, I was just like [to Finneas], 'Do you know what? I think this is the moment where I think Billie would be a sick addition,'" he said, adding that Eilish told him she was a fan of his music and would love to work with him. "That was big for me because I felt like we both get each other musically. It didn't feel foreign to me, and I love what she's done on the record."
The two later performed the track on Eilish's Happier Than Ever tour in 2022. Specifically, she brought out Labrinth on her mid-December stop in California, and their sonic chemistry illuminated as brightly as the venue's lights.
"Never Felt So Alone" flutters in with Labrinth's signature production sound — a menacing, yet sprightly mix of bass drums and synths that fit perfectly into a Euphoria character edit on TikTok. There's something about those chilly rings whirling under the drums that feel heavenly, almost as if you're levitating through the clouds. Yet, those gritty snarls ground listeners back to reality, further revealing there's nothing angelic about the song's subject matter. Let's dive into the lyrics.
In the opener, both Labrinth and Eilish set the track's tone with the chorus. With their haunting melodies, the singers repeatedly croon,
"And I never felt so alone, felt so alone, na-na / And I never felt so alone, felt so alone, na-na / And I never felt so alone, felt so alone, na-na."
In the first verse, Labrinth retires his naturally warm vocals for a glitch effect. That robotic unease in his tone is marvelous and adds to the isolation he feels by not being with his partner. He somberly ponders on what his life would be like if this relationship never existed, and that dark reality leaves him "feeling sick."
"All white leather / You know this man ain't shit without you in the interior (I'm dyin' somewhere in the dark) / All white leather / And I think, "What if we weren't ridin' and dyin' together?" The whole world would fall apart," he sings, Eilish faintly dipping in the verse with her high vocals.
This feeling eventually feeds into Eilish's verse, where she's vocally anew. The singer typically expresses her emotions in a whispery tone; however, she comes in with such ferocious energy that she's practically wailing. This switch-up is such a contrast to what listeners know of her vocal tone, but it's gorgeous nonetheless. In her second verse, she bitterly accuses her partner (who she believed was her best friend) of trying to ruin her life. She sings,
"I thought you were my new best friend / Wish I knew better then / Who knew you were just out to get me? / My whole world just fell apart."
Lyrically, this feels like an ode to Rue and Elliot's disparaging relationship. Though Rue's life was already drenched in flaws, it seemed to take an even darker turn once she met Elliot at the house party in the first episode of the show's second season. They were originally confidantes in the beginning, but that all changed by the end of the season. Honestly, I blame him holding her hostage with his nearly five-minute song as the catalyst to the weird "end" of their friendship. Not to mention, Elliot also hooked up with Jules, but it's not yet known if Rue's aware of that.
Labrinth and Eilish's fear of being alone drips through the speakers in such an infectious way. Dare I say, compelling enough that waiting nearly two years for the track's full version was worth it.
Check out the music video for "Never Felt So Alone" below, and the full lyrics via Genius.