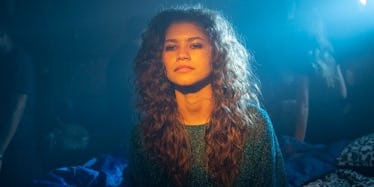 'Euphoria' Dropped A Trailer For Its Dec. 6 Special Episode & It's So Emotional
HBO
Fans may have to wait a while for Euphoria Season 2, but that doesn't mean the holidays will be completely Rue-less. HBO is releasing two special episodes of the series before Season 2 drops. And the trailer for Euphoria's first special episode, "Rue: Part 1" makes it clear the episode will be packing in the emotional moments.
In the Euphoria Season 1 finale, Rue (Zendaya) was left alone on a train platform after Jules (Hunter Schafer) decided to escape to the city without her. Based on the trailer, the special episode seems to pick up right where that finale left off. The clip shows Rue mournfully remembering that moment while musing, "Maybe I deserve it" as she stares off into the distance in an empty diner. But then her sponsor, Ali (Colman Domingo), interrupts all the flashbacks by asking: "Why'd you call me?" Fans will have to wait until the special episode drops on Dec. 6 to find out the answer.
The official synopsis for the special episode reads:
In the aftermath of being left by Jules at the train station and relapsing, the first special episode follows Rue as she celebrates Christmas. Written and directed by series creator Sam Levinson, the episode, titled "Trouble Don't Last Always," also stars Colman Domingo, who appeared in Season 1.
This upcoming episode is the first of two special episodes being released this year, although the release date for the second one hasn't been announced yet.
Zendaya first broke the news of the Euphoria special episodes herself with an Instagram post in October. She shared a photo of her character Rue in the reflection of an eyeball with the caption, "We really missed them. Two special Euphoria episodes coming soon."
Production for Season 2 of Euphoria was shut down due to the coronavirus pandemic, so these two special episodes will serve as a sort of bridge for fans until the next batch of episodes can be safely produced.
Euphoria's "Rue: Part 1" airs on HBO and HBO Max on Sunday, Dec. 6, at 9 p.m. ET.