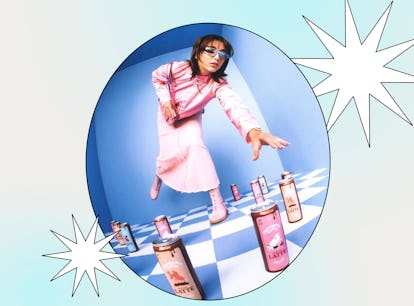 Emma Chamberlain's New RTD Coffee Line Is "Fulfilling A Dream"
The content creator reveals the latte you should grab if you love Phoebe Bridgers and balletcore.
Chamberlain Coffee/Elite Daily
We may receive a portion of sales if you purchase a product through a link in this article.
Just call her Emma Chamberlain, multi-hyphenate. While she's an internet personality with plenty of viral red carpet moments, her name has also become synonymous with everyone's fave caffeinated beverage, thanks to Chamberlain Coffee. Since it was launched in 2020, the brand has expanded past coffee bags and single-serve cold brew to include glittery pancake mix and mocha-infused cereal that turns your milk into coffee. After trying out different coffee-adjacent avenues, Chamberlain is returning to her OG love — this time, in a new ready-to-drink format.
Her four new flavors of canned Chamberlain Coffee are now being sold exclusively at Walmart, and the inspiration behind this new line comes from a necessity she noticed was missing. "I haven't really found an RTD coffee that was perfect for me, personally," Chamberlain tells Elite Daily, adding that releasing the ready-to-drink collection "is fulfilling a dream." Chamberlain's first RTD launch "starts with the classics" — the line includes cold brew, mocha, vanilla, and a cinnamon bun latte.
Cold brew, vanilla, and mocha all seem like gateway coffees for stepping foot in the ready-to-drink space for the first time, but the cinnamon bun flavor was a chance for the coffee connoisseur to have fun coming up with a drink that actually tastes like you're sipping on a pastry. Wondering which RTD latte you should try first? Below, Chamberlain breaks down which brew is the best first thing in the morning, which flavor to grab if Phoebe Bridgers is on your Spotify playlist, and which Chamberlain Coffee latte offers the perfect midday caffeine pick-me-up.
This interview has been edited and condensed for clarity.
Elite Daily: What made you want to venture into the ready-to-drink format?
Emma Chamberlain: I have wanted to do this probably since day one. I love the convenience of an RTD coffee and being able to grab it when I'm at the store.
ED: How did you decide on each of these flavors?
EC: We have a more classic cold brew latte, no flavor added, which is for people who want something reliable. And then the vanilla is such a popular flavor, so that was a must. Then of course, what's the opposite of vanilla? Chocolate. Mocha is also a classic, and I don't know many people who don't love it. While those three were mandatory, with the fourth flavor, we wanted to experiment a little bit. I haven't really seen a cinnamon bun-flavored drink yet, so I was really excited to formulate that.
ED: The cinnamon one is my favorite.
EC: Me too, I think. It's really good.
ED: Were there any flavors that you considered that didn't make the cut that you'd consider for another launch?
EC: This is not the end of the flavor development. I want to make as many as possible, like caramel, hazelnut, almond, and super nutty flavors. Down the line, we want to have fun with — similar to cinnamon bun — replicating the essence of certain desserts.
ED: If each of the new flavors was a person, how would you describe them?
EC: I imagine the vanilla fluffy lamb is very much balletcore aesthetic, cottagecore aesthetic, listens to Phoebe Bridgers, is super soft, kind, and sweet. The mocha moose is an indie music snob; they only listen to music that has under a million streams, and only buys from brands that are indie. The coolest kid you know is the mocha moose.
I imagine the vanilla fluffy lamb is very much balletcore aesthetic, cottagecore aesthetic, listens to Phoebe Bridgers, is super soft, kind, and sweet.
The cold brew elephant is a music festival-obsessed type of person. They are the life of the party, and always blasting music with the windows down even when it's raining. The raccoon cinnamon bun to me is an unexpected bestie. Their location is turned off on their phone. They're witty. They'll make fun of you a little bit, but they're your favorite friend because they're so fun.
ED: I love that. So, walk me through a day where you'd drink all four flavors. What order would you drink them in?
EC: First thing in the morning, I would start with cinnamon bun. That's something you'll look forward to. Mornings are tough, you need something fun. For that mid-morning work grind when you're just getting stuff done, that's when you need the vanilla blend. Something to just sort of calm you down and get through to lunchtime. Then, at lunchtime, you want something classic and versatile, like the cold brew.
As your last coffee of the day, finish it off with something sweet. Growing up, my dad always had chocolate at the end of his meals, so I think your last coffee of the day should be the mocha.
ED: So, which flavor are you gravitating more toward at the moment?
EC: It's really hard. I love them all so much that I'm not thinking when I pull them out of the fridge, but my favorite right now might have to be the cinnamon bun. I think during the wintertime, the chocolate is so good, but now that it's getting warm out, I'm also loving the vanilla. I don't know. It's hard to choose just one.