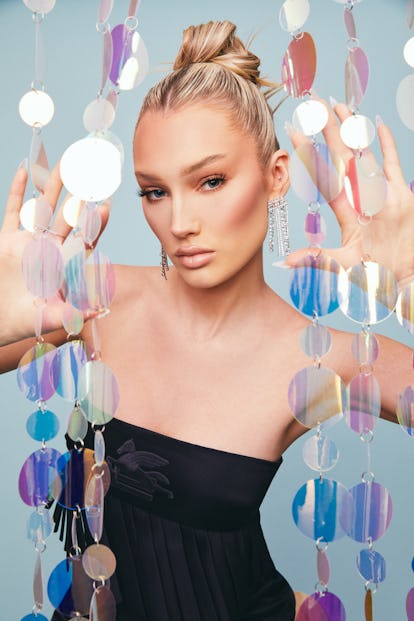 Meredith Duxbury Was Always Meant To Be The Queen Of Beauty TikTok
The 24-year-old has become the face of full-glam makeup — and she's just getting started.
Meredith Duxbury wants to make something very clear: The foundation technique isn't just a schtick for TikTok. She's actually been doing some version of it since middle school. "I would do a lot of makeup at that age," she says, recalling the Maybelline Dream Mousse foundation she swore by as a preteen. "My mom literally had to take it away from me because I put so much on." If only her mom had known she was sowing the seeds for her future career, where the "Meredith Duxbury Foundation Challenge" (10 pumps, applied with the hands) is the very thing she's best known for.
Duxbury, 24, is one of the biggest sensations on beauty TikTok, with a following of 18 million — a number bigger than the followings of Chris Olsen and Alix Earle combined. Even if you don't know Duxbury's name, you've seen her videos. Think: close-up shots of a gorgeous blonde rapping to popular music (usually Nicki Minaj) while doing full glam makeup, spreading foundation thickly on her face in the first few clips. If you "trust the process," as Duxbury always reminds viewers, the end result is almost always worth waiting for: false lashes, colorful eyeshadow, and a perfectly contoured face with cheekbones snatched to the gods. She's mesmerizing to watch, even if you don't own a single lip liner or makeup brush.
When we meet for coffee at the Roxy Hotel in SoHo, Manhattan, in early May, I'm expecting to see Duxbury wearing her signature full face. But the woman I walk up to at our outdoor table is a much more relaxed version of the TikTok star — she's wearing a white T-shirt, pale purple cargo pants, and Christian Dior sneakers, with a slicked back ponytail and "clean girl"-esque glowy natural makeup. (Yes, her skin really *is* TikTok-filter level perfect.) She's come from a brand event that morning, and now, chocolate croissant in hand, she's ready to dive in. "I haven't had a piece where my story is out there," she tells me. The bold, confident Meredith we see online is really her, she assures, even if she doesn't wear her viral foundation technique and full beat every day. But behind the camera, she's a warm, soft-spoken person with more to say than a 60-second TikTok clip allows.
Like many creative, Internet-obsessed teenagers before her, Duxbury was raised on the gospel of beauty YouTube. (She and I have that in common: hours spent daily after school learning how to use a stippling brush and apply the perfect black eyeliner wing.) "I wanted to be a YouTuber so bad. I had a channel in middle school," she recalls. Duxbury grew up in Hadlyme, Connecticut, where she moved at age 5 from England with her parents and two older siblings. She was creative from the start. "I'd do a 'What's in My Bag' video and take out a Maybelline mascara that was five years old," she says of her early videos. "I would use any resources I had in my bedroom."
Despite her best efforts, her dream of YouTube fame didn't pan out. It wasn't long before an older girl found out about her channel and made fun of her, which embarrassed her so much that she deleted it. Deterred, Duxbury shifted her focus. She went to college at Southern Connecticut State University to study business administration with the goal of focusing on social media marketing. "I still wanted to be within the industry," she says. Toward the end of her junior year, the world came to a standstill when the pandemic hit.
Suddenly faced with endless free time, Duxbury started making content again. "I had so much time during COVID that I would practice makeup three times a day, every day," Duxbury recalls. She filmed herself applying a full face, then taking it off, then starting over. Though she'd been practicing makeup for years, doing it daily in front of a camera helped her learn her own face and how different products and makeup styles looked on her. A full-glam girl from the start, though, she didn't waver from her heavy foundation and colorful eyes and lips.
"It was the best time to be on TikTok," Duxbury recalls. The platform had been available in the United States since 2017, but 2020 was when it solidified itself as a central part of Internet culture. During an era when many of us took minimalism to the extreme — not wearing a smidge of makeup or changing out of sweatpants — Duxbury's videos provided a seductive glimpse into a more glamorous life. (But the irony is that she wasn't changing out of her sweats, either. "I'd have these earrings on and people would be like, 'Show us the outfit!'" she says. "During COVID, there usually was no outfit.")
Between December 2020 and January 2021, as Duxbury began her final semester of college, her audience grew from 1 million to 7 million. Suddenly, the possibility of influencing full-time became a very real and feasible goal, and with that, came a mindset shift. "I have ADHD, so sometimes it's hard balancing my schedule," she says. "At first I was like, 'What am I supposed to do? I don't have a 9-to-5.' I need to make sure I'm planning it out, otherwise I wouldn't get my work done." She started treating TikTok as a full-time job, graduated in May 2021, rented an apartment in New York City, and paid off her student loans through sponsorship deals within the span of one month. "It was so surreal to me," she says. She had wanted this life for so long, but still, "in the back of my mind I was always like, 'I don't know, is it going to work?'"
As Duxbury's following has grown, her account has evolved to show the opportunities she's been getting through TikTok. In the last six months, she's gone to New York Fashion Week, Milan Fashion Week, and viral press trips to Dubai and Turks & Caicos, among others. She's done collaborations with major brands like E.L.F. Cosmetics and Dime Optics — and while she's never revealed how much she charges for a branded video, creators with considerably smaller followings have reported bringing in tens of thousands of dollars per post. She's met Selena Gomez and Hailey Bieber at beauty events — she and Bieber are friendly enough that the Rhode founder recognized Duxbury walking her dog in SoHo. ("She's petting him and I'm thinking, 'Oh, Crumpet, you have no idea what just happened.'") Gomez tried Duxbury's foundation technique in a TikTok video in February, calling her "my dear love Meredith." (FWIW, Duxbury loves Gomez and Bieber equally and isn't here for the drama surrounding them. "Everybody needs to get off their keyboards saying all this mean stuff and let people live," she says.)
Duxbury also speaks positively of her time on influencer press trips, which have recently come under scrutiny by the wider public because of TikTok virality. "On the trips, there is no drama," she says. "Everyone loves each other, everyone has so much fun, and we're all grateful to be there." Not all creators have had such glowing things to say — after the Tarte trip to Turks and Caicos in late April, several minority creators reported feeling like there was an unspoken hierarchy perpetuated by the brand. Duxbury is adamant that there aren't any competitive vibes on these trips, at least from her POV (though as a white woman and one of the biggest names on beauty TikTok, Duxbury is most likely to get that top-tier treatment and access).
Tarte CEO Maureen Kelly cites Duxbury's "authenticity" and "commitment to staying true to herself" as reasons why she's such a good brand partner. "Meredith has mastered that scroll-stopping quality where she pulls you in with her content," Kelly tells Elite Daily. "She has her own disruptive beauty style and has stayed true to it."
Still, her massive popularity hasn't changed who she is at her core. "Meredith is one of the nicest people in the industry," says Serena Kerrigan, a fellow influencer and close friend of Duxbury. "For someone at that level — who is so beautiful, with so many followers, and is so well-dressed and put-together — what sets her apart is how genuine she is," Kerrigan tells Elite Daily about an evening when Duxbury came to her card game launch in NYC. "She texted me the next day at 9:30 a.m. saying, 'Hey, babe, it's Meredith. Thank you so much for having me. You're killing it.' That's the type of person she is. She's always made me feel good and empowered — that's her essence, and people can feel it through a screen."
Influencer life is perfectly curated to look idealistic — the whole point is to have such a perfect-looking life that your audience is clamoring to buy every product you use or to use your feed as a form of escapism. But the pressure to be "always on" is very real, especially when so much of the job involves going to beauty events, making connections with brands, and going on trips — all of which involve a copious amount of socializing. "It feels like every day is a networking day for me, and if I'm seeing people, I want to be my best self," Duxbury says. "But if you're having a bad day, sometimes it's hard. You're like, 'OK, I just need to stay in this morning.'" She admits she's bad at separating her actual life from her work life. "Even if I'm on vacation, I'm still creating content," she says. She's planning a three-week personal trip to Europe this summer not affiliated with any brands, but she still plans to create content the whole time. She can barely scroll TikTok without being flooded with ideas for new videos. "There's always stuff going on in my head," she says. "It never really stops."
When every moment in life can be content — and when your audience expects that access to you — anything not filmed can feel like a missed opportunity. But sometimes, Duxbury has to force-quit for a second to recalibrate. She recalls a recent morning when she was in Miami for the Formula 1 Grand Prix. "It was a crazy day. I was very stressed, and I needed an hour to do my makeup in peace: no social media, not filming it," she recalls.
One facet of life Duxbury doesn't share very often? Her relationship of three years with her boyfriend, Brandon Remer. The two met when she was working bottle service at a nightclub in college, and Remer showed up with his friends. "I give so much of my life to social media," Duxbury says. This is one thing she likes to keep for herself — mostly. Remer rarely makes appearances in her TikTok videos, but he's a regular on her YouTube channel, where she shares longer vlog-style videos about her life. "He's very involved in my career," she gushes, but his dental school schedule prevents him from traveling with her very often. She hopes to bring him on more press trips, though, because he's the extroverted one out of them both. "I definitely have a social battery," she says. "He can go, go, go."
As for *that* foundation technique, Duxbury knows it's not for everyone. She's always been self-aware of this on TikTok, making videos where she cheekily responds to critical comments and jokes about the constant requests to do a more "natural" look. "Don't get me wrong, I love doing the fluffy brows and natural makeup, but it doesn't challenge my brain," she says. "Makeup is like art to me. It's like I get to paint a picture every time."
Duxbury's signature full-coverage foundation look may have stemmed from an insecurity she's gotten over — she used to do heavy makeup to cover up her freckles, though now she appreciates them and says she "just needed to grow up a bit" — but at the end of the day, she stands by the polarizing technique.
That preference has drawn her a nearly endless stream of critics — everyone from your average beauty novice to bigger names. In May 2022, Bobbi Brown made a video seemingly poking fun at Duxbury's application process, in response to the influencer's critical review of the foundation from Brown's brand, Jones Road. But when I ask Duxbury about negative comments, she genuinely doesn't seem too bothered. "Everyone is entitled to their opinion, and I like constructive criticism to an extent," she says. She reviews products herself and has no problem sharing less-than-glowing opinions if a product falls short of expectations.
But she draws a distinction between disparaging a product versus a person. "If you have an opinion about something, that's fine. You can say it, but it doesn't mean you have to bash the person." Still, she seems mostly unaffected by the noise. "There are so many positive comments, too," she says. "People really care, and there are 18 million of them who follow me for a reason."
Duxbury hopes to share more of her life moving forward — she's been meaning to do an apartment tour, but she hasn't gotten around to cleaning and organizing her place for it. "I struggle balancing it because I do so much makeup content that at the end of the day, when I'm tired, I just want to lie down," she says. Her boyfriend has been encouraging her to talk more about how she got started on TikTok, but she's wary about how it might come across, especially given her privilege as a cis white woman. "I worked hard to get where I am, but other people are also working very hard," she says carefully.
But at the end of the day, she swears she'll always be a makeup girl first and foremost. "Makeup is my main thing — it's how I earned my money, and I'm doing it full force," she says. "My goal one day is to own a makeup brand." And if TikTok gets banned or another app overtakes it in popularity? Duxbury is confident she'll be OK. "I have enough knowledge of marketing and social media that I'd be able to fit in somewhere," she says, even if it's not exactly the same thing she's doing now.
Case in point: As part of a recent partnership with Estée Lauder, Duxbury gave a presentation to the brand's corporate team about TikTok, teaching them what types of videos perform and what features make content go viral. "If Estée Lauder's asking me to teach them about TikTok, I must be doing something right," she says, smiling.
When you've built an online empire from your bedroom, it's hard not to believe that anything is possible. "Life works in very mysterious ways," Duxbury told viewers in a December 2022 video, as she was getting ready to buy her first Birkin bag. "But one thing I can tell you is that if you manifest anything you want, you will achieve it. I think I've been manifesting this life since I was in middle school." That Maybelline Dream Mousse might not have been such a bad investment, after all.
Photographs by Gemma Fleming