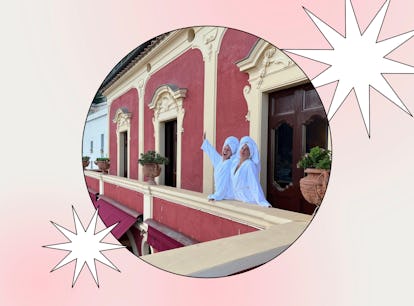 Alix Earle's In Her "White Lotus Era" After Staying In This Airbnb
The luxe stay costs more than Harper and Daphne's girls trip.
Anyone following Alix Earle on TikTok has likely seen all the drama surrounding her European trip scam. Things took a turn when the group landed in Positano and the rental they had booked didn't exist, but luckily, they weren't stranded for long. Airbnb came to the rescue with a Positano, Italy villa stay for Earle and her besties that looks like something out of The White Lotus.
The Positano, Italy Airbnb that Earle and her friends ended up staying in was as bougie as Harper and Daphne's Noto villa from their girls trip in The White Lotus Season 2. It may even be more luxe than The White Lotus stay with its own spa and sea view terrace. Earle shared a glimpse into the Airbnb villa, which she described as a "castle," when the girls first checked in. Each day she was in Italy, you could see the villa in the background of her GRWM videos and TikToks dancing around in bathrobes with her BFFs, but you may be wanting more of an inside peek. For anyone planning a White Lotus or Alix Earle-inspired vacay of your own to Europe this summer, here's a look inside the Positano Airbnb villa and how you can book it yourself.
How Much Is Alix Earle's Positano Airbnb?
Airbnb confirmed with Elite Daily that the villa Earle and her friends stayed at during the Positano leg of their trip was the Antico Positano Villa. The five-bedroom stay comfortably sleeps up to nine guests, but Earle and her friends made it work for all 12 of them. The "historical 17th century palace" comes with a gorgeous terrace that overlooks the water. Earle shared just how gorgeous the view is from the Airbnb after updating her fans on their scam drama. "How is this real life right now," the content creator asked as she showed off the villa, and said she was officially in her "White Lotus era" on Instagram.
The content creator also mentioned in her TikTok that Airbnb "set" them up with the stay, which means they likely didn't have to pay the $6,287 a night price tag that comes with the villa. That price is actually more than the Noto villa that Harper and Daphne booked for The White Lotus, which is also on Airbnb for just $5,895 a night. However, the White Lotus stay only sleeps eight and doesn't include quite as many amenities as Earle's Positano villa.
Inside Alix Earle's Positano, Italy Airbnb
In the Airbnb tour TikTok video, Earle shared that the villa she booked for her friends not only looks like a castle but also includes its own spa. After getting stranded at the airport and left without a place to stay, the 22-year-old definitely deserved a chance to treat herself. Hopefully, she really took advantage of the waterfall and hydro-massage indoor pool as well as the Turkish steam bath and sauna. The villa also has cold, tepid, and hot water showers in addition to a massage table that you can use during your stay.
While in Italy, you definitely want to venture out to see the city and try new dishes, but your villa does comes with a private chef and full-time stay to take care of you while you're there as well. You could even enjoy a few meals out in your private garden or with a sea view on the terrace. Foodies hoping to try it all may want to sign up for a cooking class, which is what Earle and her friends did while in Positano. They booked one of the cooking classes with Ristorante Max. Unfortunately, there are no prices listed for the class online, but a similar class with a lot of hype on TikTok is this cooking class also in Positano.
The La Tagliata cooking class in Positano includes a tour of the restaurant and garden, three courses to enjoy, and endless wine for about $161. This is definitely worth it, according to TikToker @anna_heid. From Earle's travel vlog, it looks like her crew also rented a boat, went shopping in town, and sat in the sauna together, which are all things you can enjoy even if you can't afford staying at the same luxe Airbnb in Positano with your besties.