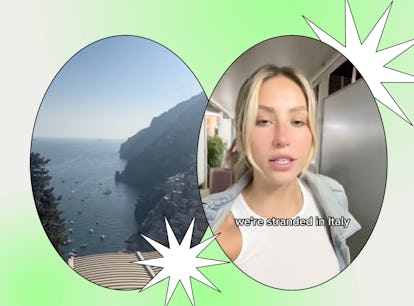 An Explanation Of Alix Earle's Graduation Trip Scam Drama In Italy
Their new villa looks like something from The White Lotus.
TikTok/Elite Daily
After going on a lot of brand trips, you might forget all the struggles that come with planning your own vacay. At least that's the harsh reality content creator and Berry Alixir founder Alix Earle dealt with when her recent girls' trip to Italy was derailed due to an alleged scam. "We're stranded in Italy," Earle shared in a May 22 TikTok after the "scenic villa" her and her friends booked ended up being too good to be true. The recent college grad told fans that she realized the house they were supposed to stay "didn't exist" just hours after posting a cute and fun-filled TikTok of her time in Ibiza, which ended with her crew boarding an easyJet on their way to Italy.
Fellow TikToker and Miami girl, Xandra Pohl, was also one of the 11 girls stranded in Europe, and in Pohl's recap of the girls trip drama, she admitted that the group had an inkling something was up. While Pohl didn't explain how they knew, the TikToker shared that while on the plane, "We realized that our Booking.com was probably a scam." Earle later revealed in a GRWM that their listing just "doesn't exist." Other renters have said they've also been scammed before by fake listings on Booking.com, so it's possible this is what happened to Earle and Pohl as well.
Fraudulent listings on platforms like Booking.com and Airbnb have been on the rise, so it's best to double check every listing you see. If there are tons of reviews, it's more likely to be an actual place versus a new listing that seems too good to be true. Booking.com shared a statement with Elite Daily: "We are aware of the unfortunate situation, which is not reflective of our usual guest experience, and are investigating further. In the very rare instance of an issue such as this, Booking.com's customer service team is available 24/7 to support with whatever our guests need. This is clearly not a situation we would want for anyone using our platform as our primary aim is to enable smooth and enjoyable travel experiences."
If you're wondering how 11 girls can get stranded in Positano, here's a full breakdown of Earle's Italy girls trip scam drama.
Alix Earle, Xandra, & More Were On A European Vacay
Earle, who just graduated from the University of Miami, planned a three-week European adventure with her besties to celebrate. In a packing video posted on May 18, the content creator shared that they would be traveling to Ibiza, Positano, Santorini, Mykonos, and Athens over those three weeks as a "post-graduation trip." Traveling with a big group sounds stressful, but despite running late to the airport and someone leaving their passport on their first flight, Earle's first day travel vlog made it seem like everything was running as smooth as possible.
Actually, Ibiza looked picturesque with a beach rave, dinner at STK, and a night full of clubs, but things really took a turn for the worst once Earle's group arrived in Italy.
Alix Earle's Positano, Italy Trip Drama, Explained
As soon as the girls landed in Italy around midnight, Earle shared that the house they were supposed to stay at didn't exist and their car service canceled on them as well. They didn't stay stranded for too long, though. Earle updated her followers with a second TikTok saying they were able to find a place to stay for the night at a "random hotel," and four girls would have to share one cot together. Not ideal, especially after you're used to luxury suites in "Dubai" and celebrity mansions in Turks and Caicos.
The TikToker also shared in her comment section that the group would be stranded again the next day, without a place to sleep. Luckily, Airbnb commented as well, saying, "Babes we got you. Our people are calling you now." And they truly did have Earle's back.
Alix Earle's Italy Trip Had A Happy Ending
Earle updated her followers on May 24 that Airbnb hooked them up with their own villa that Earle described as a "castle" or their very own "museum." The gorgeous villa includes stunning views of Positano as well as a sauna, steam room, indoor pool, and massage table. That will definitely help them to relax after a very stressful first day in Italy.
One follower even commented that their Airbnb looked like a White Lotus villa, and Earle replied, "That's what we said." Pohl shared in a GRWM that the trip had been a "dumpster fire" before Airbnb came to the rescue, but she also said that Positano was her favorite place they had been to so far. "Things are turning around," Earle commented, and this will definitely be a European trip they'll never forget.
This article was originally published on