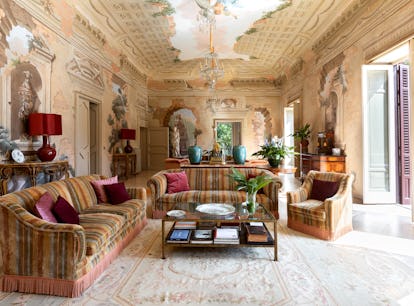 Harper & Daphne's Noto Villa From White Lotus Is On Airbnb RN
Who's down for a luxe girls' trip to Italy?
Season 1 of The White Lotus was an award-winning success, but Season 2 did the unthinkable by being even better than the OG. It's rare for a TV series to avoid a sophomore slump, but The White Lotus Season 2 did it with a riveting plot and wanderlust-worthy filming location. While Hawaii is a dream destination for many, Italy has moved to the top of many people's travel bucket list recently. When you're overseas, you can even stay in The White Lotus Noto villa that's on Airbnb to rent.
That's right, the Noto, Italy villa that Harper and Daphne spend a memorable night in during Episode 3 of The White Lotus Season 2 is now on Airbnb. There are actually quite a few White Lotus Season 2 filming locations in Sicily that you may want to visit now that you've finished watching all seven episodes. There's the actual White Lotus hotel — aka the Four Seasons San Domenico Palace — and the various villas featured during the show, like Quentin's Villa. Of course, traveling to Quentin's villa in Palermo ended up being a terrible decision for Tanya, but staying in the villa that Daphne and Harper have their girls trip at may be one of the best decisions you've ever made.
However, this villa is not your typical Airbnb rental. Many people choose Airbnb over luxury hotels for a more budget-friendly option or to experience a one-of-a-kind stay. While staying in an actual White Lotus filming location is a once-in-a-lifetime opportunity, it's definitely going to cost you. In fact, to live like a White Lotus guest, you're going to have to save up like a White Lotus guest.
How Much Is The Noto Villa From The White Lotus On Airbnb?
The White Lotus villa on Airbnb is part of Airbnb Luxe, which offers luxury retreats to guests. For a bougie stay, you're going to have to splurge a bit. The Airbnb rental is about $5,957 a night. Even if you're splitting the costs between two people like Harper and Daphne did, that's probably more than you spend on rent each month. However, the White Lotus villa actually sleeps up to eight people, so you might want to consider bringing your family or your BFFs to make your stay a little more cost-friendly. That's still not cutting down the cost significantly, but that does get your nightly rate down to around $745 a person.
Unfortunately, the villa also has a three-night minimum. So, you're looking more realistically at $17,872 for your total stay before taxes.
Where Is The Noto Villa From The White Lotus On Airbnb?
The villa, named Villa Tasca, is actually not located in Noto, Italy. IRL, it's in Palermo, Italy, which is over four hours away from Noto. Funnily enough, Quentin's villa, which they say is located in Palermo on the show, is actually located in Noto IRL.
If you had your heart set on visiting Noto because Daphne and Harper make it look so fun, you can still recreate that experience in a girls trip to Palermo. The capital city of Sicily has tons of shopping and historical sights to see. You could even stop for lunch and drink an Aperol Spritz like Harper and Daphne do before going back to your villa to relax.
Speaking of which, the Villa Tasca has plenty for you to enjoy as well. Since each person will be spending nearly $800 a night, you might as well be taking in as much time as you can at the White Lotus villa. There are 20 acres of gardens surrounding the villa with a gorgeous lawn that you'll want to promenade around like you're in an episode of Bridgerton.
There's also the swimming pool that Harper and Daphne — aka Aubrey Plaza and Meghann Fahy — take a dip in while staying at the villa, as well as a gorgeous terrace for lounging that you'll want to take advantage of. You could even recreate some of your fave scenes from The White Lotus for a TikTok or snap pics for the 'Gram in your best Harper and Daphne 'fits. When you want to take the fun indoors, the villa also comes with amenities like a billiards room and music room. The nearly $6,000 a night price tag comes with your own staff for the stay that will take care of housekeeping and concierge services. For an additional cost, you can even have a cook prepare food and beverage as well as laundry service, airport transportation, and even someone to plan excursions for you. It's like having your own Valentina.
As expensive as it is to stay at The White Lotus villa, it may be worth it for fans to live like Daphne and Harper for a few nights — minus the drama, of course.