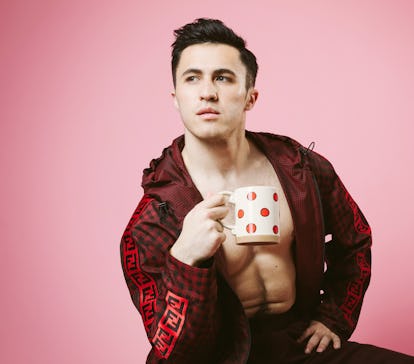 Chris Olsen Is Only 2% Chaotic
TikTok's breakout bestie is turning viral fame into a sustainable career — and trying to make influencer life more fun for everyone.
Chris Olsen has explaining himself down to a science. In October, he was in New York seeing Funny Girl with Lea Michele (a musical he's seen four times now) and, as to be expected for a TikTok star with nearly 10 million followers, young people flocked to him during intermission to chat and take pictures. He received them warmly, laughing and hugging them as if they were old friends who had spotted one another from across the room. A group of older women sitting a few rows ahead of him were curious: Who was he? Was he famous?
"There are different tiers to the answer," Olsen, 25, tells me a few months later. "The first one is like: 'I make videos on the internet,' and sometimes I leave it at that — people don't really ask any more." If they do, he could say he works with his close friend Meghan Trainor, who first bonded with him on Instagram and now employs him to make content with her. (TikTok was a not-insignificant factor in the success of the pop star's latest hit). He could say he makes videos about mental health, even recording his own therapy sessions and sharing the silliest out-of-context clips. Or — OK, this one's a little weird to explain — he could say he travels great distances to hand-deliver coffee to celebs ranging from Sabrina Carpenter and Drew Barrymore all the way to Vice President Kamala Harris, filming every step of the journey. "I try to tailor the answer to what I think they would get the most," he says.
Maybe it's easier to think of Olsen as TikTok's unofficial mascot. He is a professional bestie to the stars, an ambassador between #brands and #youth, and a one-man welcoming committee to the newly viral. "I don't believe I follow him directly, because it's almost like you don't have to. One of the things he has an uncanny ability of doing is just randomly appearing in the videos of other people," says Kate Lindsay, co-founder of the internet culture newsletter Embedded.
Olsen first achieved internet fame making funny slice-of-life TikToks with his ex-boyfriend, actor and content creator Ian Paget, in the early months of the pandemic, when human connection was in short supply for many. After their public split in early 2022, Olsen became a solo star in his own right (with the mononymous handle @chris), mostly by posting his way through it.
"We all fell in love with the messiness of Chris," says Dylan Mulvaney, known on TikTok for her Days of Girlhood series documenting her gender transition. The two knew of each other through mutual friends but connected after Mulvaney messaged him for advice as her videos started going viral; Olsen gave her his number and walked her through the ins and outs of influencer life. "When he goes online and is talking about a first date or an awkward moment or a hookup gone wrong, those are all things that not only make us feel like we truly do know him, but also make us see this humility."
His success, Mulvaney believes, is proof that TikTok audiences are gravitating towards less polished, more substantive and vulnerable videos, "versus just making a dance or a trending audio and looking hot." She adds: "Because Chris is hot, but also is so funny and all these other things." Behind the scenes, she says, Olsen encourages other content creators to build out their business teams and embrace collaboration — not just because it expands your reach, but because it makes the influencer life a lot less isolating. "If a new app were to pop up and become the next big thing," Mulvaney says, "Chris would figure out how to iconically maneuver that new app, I just know it."
Like the universe after the Big Bang, TikTok moves fast and in all directions. It ditches its main characters as quickly as it mints them, and users can spend hours scrolling the "For You" page — a never-ending stream of algorithmically recommended videos — and never leave their corner of the galaxy. Olsen has achieved ubiquity, and staying power, by refusing to pick a lane. "Some of my content creator friends feel like they're trapped in a niche," he says, a persona that doesn't reflect how multifaceted they are. Olsen's solution is, again, to post through it: He also has a second account, @notolsenchris, with 3 million followers, to shitpost to his heart's content: "It helped me find the love for content creation again and take it less seriously."
When he meets a new person IRL, he's just not sure which version of Chris Olsen they're acquainted with from TikTok. "The first few times it happens, it's strange," he says of getting recognized in public. "But then you get into the groove where you're like, 'I can understand what your relationship to me is, and I'm going to do my best to continue that relationship in the way that you want it to be.'"
When I'm talking to my phone, I feel like I'm talking to my friends. If I had to get on stage and share all of that, it would be very different.
We're meeting at West Village's Rosecrans Florist and Cafe in early January. It's a favorite spot for Olsen, who splits his time between Los Angeles and Brooklyn. We had planned to do a coffee shop crawl of the neighborhood, but it's a near-freezing day in Manhattan, so we mostly stay put as Olsen sips a decaf iced vanilla latte with oat milk. He took the subway here and is sporting large noise-canceling headphones — they help keep fans at bay when he wants personal space — a stylish puffer jacket, a plain bicep-hugging T-shirt, and a lime-green backpack. His eyes are brighter and bluer than they appear on the app, and he has the kind of strong chin many celebrities are probably trying to scientifically engineer.
Though he describes himself as socially awkward, it doesn't show. When Olsen accidentally knocks over a flower pot with his backpack, he smoothly offers to pay for it without a hint of embarrassment. "Whatever you need, if you change your mind, I'm here," he calls back to the florist after she declines and goes to fetch a broom. He speaks in even, perfectly composed sentences that make me wonder if he has ever had to abandon a thought mid-sentence and start over, and during the course of our near 90-minute hang, he says the word "um" maybe once.
"When brands come to me and ask to work with me, a lot of their initial thought is, 'We want that chaotic energy you always bring!'" he says. "I am not very chaotic in my day-to-day life! I'm pretty kept to myself. I was telling a friend about one of these brand campaigns they asked me to be chaotic for, and she was like, 'I'm pretty sure you're like that 2% of the time.'"
Moschino hoodie, J.Lindeberg jeans, Talent's own bracelet, MK socks, Nike sneakers
Olsen has been performing his whole life. He grew up in the affluent D.C. suburb of Chevy Chase, Maryland, with a dad who worked in government and a mom who is a lawyer. He attended theater camp for seven summers and by middle school, he was meeting up with a nearby high school to perform in their productions. "I wanted to move to LA, I wanted to be a star," he says. "But my parents were very like, 'School first, then you can do whatever.'"
He attended an academically rigorous all-boys school and came out as gay at the end of eighth grade. Being the only out gay kid at an all-boys school, however, was not easy, so halfway through his freshman year, he transferred to an arts-oriented boarding school in Massachusetts. There, he was finally among his people — he would go on to get his BFA in musical theater from the Berklee College of Music in Boston — but he also became "kind of a mess," as he puts it.
"[Arts boarding school] is hormonal teenagers encouraged to be dramatic every day of their lives," he says. There was also a lot happening at home: His parents were going through a divorce and his mother went to rehab. By his late teens, Olsen developed a drinking problem of his own. "I didn't have footing when I went home, and I didn't know who I was when I went to school," he says. "I was just trying to figure out who I was and getting lost in the process over and over again."
Olsen casually mentioned his rehab stint in a December spon-con post for ZipRecruiter before realizing that was news to many followers. Though he'd talked about it before on other platforms, "I'm constantly introducing myself to people," he says of making content for TikTok. So he's been happily filling them in: about the intervention his friends and family held for him at age 19, about the harsh methods his treatment center used (locking patients out of their rooms if they weren't tidy, printing some of their text messages for all to see). "These decisions [to post about it] feel more like no-brainers because I'm like, 'This is something that will help people.'"
He speaks from personal experience. Having a parent overcome addiction issues before him demystified recovery, he says. "I had seen my mom go through it and be OK afterward,'" he says. "Everyone feels like, when they're in addiction, they're going through it alone, so [it helped] to know I wasn't."
Still, he acknowledges, TikTok is a funhouse of intimacy. "When I'm talking to my phone, I feel like I'm talking to a lot of my friends. It's this guise of feeling comfortable while talking to a million strangers at the same time," he says. "If I had to get up on stage and share all of that from scratch in front of a group of people who didn't know me, it would be a very different scenario."
And when viewers engage back with that same sense of familiarity, even on his most lighthearted videos, it can be disorienting. "The comments can be like, 'He's really gone off the rails, he's not OK,'" Olsen says. "I know they're trying to be funny, but sometimes when you read [comment after comment] of people being like, 'Are you OK?' you're suddenly like, Am I? Is something wrong?" That kind of scrutiny played a role in the end of his relationship with Paget: "People overanalyze you and want you to be perfect."
Now, he has much firmer boundaries. "I don't think I'm ever really going to share that much about my dating life," he says, "because I know that can add a lot of pressure to the relationship."
There are only so many ways for influencers to make money. TikTok's Creator Fund, which compensates users for successful posts, will barely make a dent in your rent. So you make paid content for brands, sell merch, get booked for events, and, if you're lucky, branch into product lines. For a lot of creators, that means makeup and skin care lines. For Olsen, that means Flight Fuel, his direct-to-consumer brand of coffee beans and cold brew concentrates, launching on Valentine's Day with Pan Am-inspired packaging. Between his delivery videos and the coffee reviews he posts to Instagram stories, it's the closest thing he has to a thing.
The coffee delivery videos are mostly unpaid collaborations, though the Austin Butler and Noah Centineo deliveries were set up with Warner Bros. (the studio behind those actors' recent projects). Apart from his work with Trainor, "I have not thus far really been paid by any other celebrity to interact with them," Olsen says. "A lot of them I've just naturally become friends with. So when we're talking about comments that occasionally hurt, that doesn't hurt, but I'm always like, 'Wow, do you guys think I have no capacity to make friends?'"
TikTok users are primed to sniff out anything they suspect is not as organic as presented, and Olsen has not exactly done himself any favors in this regard. Early on while making videos together, Olsen and Trainor claimed they were childhood friends who go way back. Is there shame in openly hiring someone to help you with TikTok?
"I've never really thought about that," he says. It wasn't a cover story; it was just a bit they made up because they share a birthday and a connection to Nantucket — she grew up there, he spent summers there. (Also, joking about being related is something content creators just… do.) "When we made that video I wasn't on a contract. I thought that was one of the only videos we were going to make together. I really had no idea that we were going to continue our work together. And I don't think there's really too much shame around her and I working together, because it's gone so well."
I want to be a girlboss right now. I want to feel that energy within myself.
As we walk around the neighborhood — he's headed to the subway to guest on a friend's podcast before going to see M3GAN — I ask him about his connection to Harry Styles. Last fall, the TikTok account of Pleasing, Styles' beauty brand, shifted from soothing tutorials to irreverent, meme-ier clips whose comedic tone (and apartment decor) seemed a little familiar. Then, on Halloween, Olsen had a viral moment at one of the pop star's shows. From his row off the floor, Olsen held up a sign reading "Daddy?" Styles spotted it on the Jumbotron and, in a thrilling moment for anyone with a pulse and a spot on the Kinsey Scale, walked toward Olsen and responded, "Yes?"
Olsen is coy about his involvement with the brand — "The whole mystery of whoever's running the Pleasing account is fun to watch" — but he swears his moment with Styles was no stunt. "I will go on the record, hand to the Bible, that the 'Daddy?' sign thing was not planned at all," he says. "People give all of the entertainment industry too much credit as to what is planned and what is not."
Olsen doesn't plan to be in front of the camera forever. He'd like to do more hosting work and continue popping up on red carpets, and maybe down the line he'll put his BFA to work and make a go at Broadway. But he's also interested in developing his business sense through opportunities like Flight Fuel and some behind-the-scenes consulting work he's started doing. "I want to be a girlboss right now," he says. "I want to feel that energy within myself."
I wondered if endeavors like a coffee line appeal because he doesn't have to share the spotlight. But Olsen says he is happy to play the sidekick in his content. Why wouldn't he? He's making friends and filling up his phone with industry contacts, he says, and nobody gets famous all on their own.
"There's that line, 'You're only relevant because…' Listen," Olsen says as we reach our stop, his voice reaching the volume and enthusiasm of one of his TikToks. "You're still calling me relevant in that sentence!" A few moments later, he puts his headphones on and disappears underground.
Top Image Credits: Fendi jacket and shorts
Photographer: Celeste Sloman
Stylist : EJ Briones
Grooming: Jennifer Brent
Video: Rebecca Halfon, Marshall Stief
Associate Creative Director, Video: Samuel Schultz