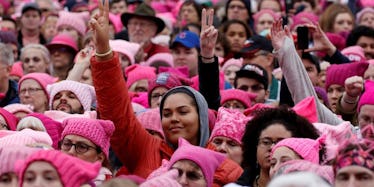 Tinder Is Doing Something Super Inspiring For International Women's Day
REUTERS
When you think of Tinder, you might imagine a bunch of dick pics, some questionable profile pictures and maybe some miserable pick-up lines.
But one thing you probably DON'T think of immediately is undeniable support for women.
Well, the popular dating app is stepping up for International Women's Day this Tuesday, and what Tinder's doing is actually pretty awesome.
Working with Twitter and partnering with Pledgeling, Tinder is launching a national donation campaign with the hashtag #FundHerCause to ultimately donate a quarter of a million dollars to various women's organizations on March 8, 2017.
OK, Tinder, that's pretty cool of you.
Here's how it works: Users can tweet @Tinder using the hashtag #FundHerCause, including what cause or organization they care most about in the tweet.
From there, Tinder will send you a link that leads to a $100 donation code, which can be used on www.tinder.fund.
Tweeters do not need to worry about finding a specific charity themselves. Rather, they can choose from a list of 12 female-centric causes that support issues like education or women's rights.
This campaign comes at a particularly sensitive time in women's history, as many women are unsure how their lives will be affected under President Donald Trump.
Planned Parenthood and all the health care services it offers to women are just one example of critical women's services that are in jeopardy since Trump took office.
But thankfully, Tinder appears to be riding the waves of the rise in female unity and support for females around the globe.
If you're unsure of what exactly International Women's Day is all about, their website states,
International Women's Day celebrates the social, economic, cultural and political achievement of women. Yet progress has slowed in many places across the world, so global action is needed to accelerate gender parity.
Why not take Tinder up on their offer and support all the women in your life and in the world (and maybe land yourself a hottie at the same time)?
The campaign officially kicks off this Tuesday, March 8, at 9 am.
Tinder couldn't have made it easier to stand with women in this campaign. So tomorrow, your commute to work or your morning coffee time is the perfect chance to log on to Twitter and support #FundHerCause!