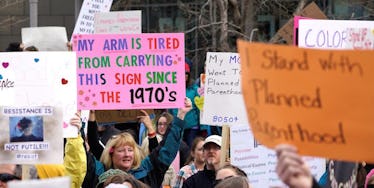 5 Times Judges Restored Our Faith In America Since Trump's Inauguration
REUTERS
Since the inauguration of Donald Trump, the judicial branch has stepped up several times to stop Republican plans that would restrict people's freedoms.
Judges's actions over the past month have had many people crying that the judicial branch is their favorite — all because they're doing their jobs.
While politicians might talk the talk but not walk the walk when it comes to standing up for freedoms, judges are standing strong against harmful policies.
Here are five instances in which judges did their jobs and restored our faith:
1. A judge blocked the defunding of Planned Parenthood in Texas.
State health officials were trying to take away Medicaid funding from Planned Parenthood in Texas, which would have hurt the health organization.
The officials said it should be defunded because of evidence from secretly recorded videos, which a grand jury believed did not show evidence of wrongdoing by Planned Parenthood.
US District Judge Sam Sparks was not taking the crap. He blocked the defunding of Planned Parenthood this week. He said in his ruling,
A secretly recorded video, fake names, a grand jury indictment, congressional investigations — these are the building blocks of a best-selling novel rather than a case concerning the interplay of federal and state authority through the Medicaid program. Yet, rather than a villain plotting to take over the world, the subject of this case is the state of Texas's efforts to expel a group of health care providers from a social health care program for families and individuals with limited resources.
Texas Attorney General Ken Paxton, however, said he will appeal the ruling.
2. Washington Supreme Court called discrimination what it was.
Arlene's Flowers in Washington refused to provide flowers for the same-sex wedding of Robert Ingersoll and Curt Freed in 2013.
Barronelle Stutzman, the owner, said she would not serve them because of her religious belief against same-sex marriage.
The state Supreme Court unanimously agreed, 'Nah, that's not OK to do.'
They ruled last Thursday that Stutzman violated anti-discrimination law.
Justice Sheryl Gordon McCloud wrote,
As every other court to address the question has concluded, public accommodations laws do not simply guarantee access to goods or services. Instead, they serve a broader societal purpose: eradicating barriers to the equal treatment of all citizens in the commercial marketplace.
Stutzman said she will appeal the decision to the national Supreme Court.
3. The North Carolina governor had power restored.
Some crazy stuff went down during the gubernatorial race in North Carolina last year.
Democrat Roy Cooper won the election in November, while Republicans controlled the state legislature.
In December, the Republicans put in a new law that kept the governor from being able to have certain powers.
But a court blocked that law earlier this month, giving the governor his power back. The court said in its ruling,
The immediate and irreparable harm caused by the challenged legislation outweighs any possible harm in preserving the status quo prior to the challenged legislation being implemented.
Legal actions are ongoing.
4. Many rejected Trump's immigration ban executive order.
Last month, Trump instated an executive order banning immigrants and refugees from seven predominately Muslim countries. It didn't go over well.
Soon after the ban was signed, federal Judge Ann M. Donnelly of the Eastern District of New York Courthouse in Brooklyn, New York ordered an emergency stay to help people in the country, including those who were flying while it went into effect.
Acting Attorney General Sally Yates stood up against it. She said,
I am not convinced that the defense of the executive order is consistent with these responsibilities, nor am I convinced that the executive order is lawful.
So Trump fired her.
And then the 9th Circuit Court of Appeals unanimously agreed with a lower court's ruling that the ban could not legally be enforced.
This led to Trump's breakdown over the judicial system, in case you forgot that fun stuff.
Trump tweeted, "SEE YOU IN COURT."
To which everyone replied, "Boss, you were just in court," and the ACLU was like, "LOL aight, let's go again."
Trump is attempting to make a new executive order with the same outcome, to which the ACLU said they'll do the same legal challenge.
It doesn't help that he keeps talking about a "Muslim ban," which the courts reject.
We'll see what happens next.
5. A Michigan girl got to keep her service dog in school.
Ehlena Fry, 13, was born with cerebral palsy. She has a service dog, Wonder, who helps her with certain actions.
But her school didn't allow her to have Wonder there.
On Wednesday, February 22, the American Supreme Court unanimously said she should be able to take her dog with her to school.
Stacy Fry, her mother, said in a statement,
We are thankful that the Supreme Court has clarified that schools cannot treat children with disabilities differently or stand in the way of their desired independence.
That's a good pup — and a good legal system.
Citations: Judge Rules Texas Can't Cut Off Medicaid Funds To Planned Parenthood — For Now Facebook Twitter Google+ Email (NPR), Richland florist discriminated against gay couple by refusing service, state Supreme Court rules (Seattle Times), Court blocks law limiting Democratic North Carolina governor's powers (Politico), After Thousands Protest Immigration Ban, Federal Judge Grants Stay To Detainees (Gothamist), Federal Judges Refuse to Reinstate Trump's Immigration Ban (The Atlantic), A girl named Ehlena and a dog named Wonder win at U.S. Supreme Court (Reuters)