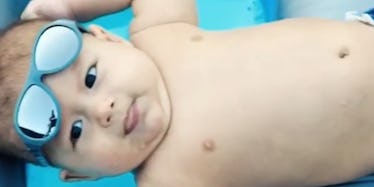 Boomer Phelps Hardcore Chilling In The Pool Proves He's Cooler Than All Of Us
Instagram
The 2016 Rio Olympics have come and gone, but they've left us with plenty of post-Games entertainment.
In an Olympics that featured the sensational Final Five and Ryan Lochte's confusing and captivating robbery drama, there's another aspect that stands out among the most alluring of storylines.
I'm of course talking about Boomer Phelps.
Boomer, the infant son of 28-time Olympic medalist Michael Phelps, has stolen the hearts of Americans everywhere.
Luckily for us, he has his own Instagram, and it's arguably the best thing on the internet, especially considering his latest post:
You've got to be kidding me. That's the cutest thing I've ever seen. We'd all be better off with even an ounce of that Boomer swag.
Littler Boomer Phelps has seriously been crushing the social media game.
While his dad was busy setting records in the pool, Boomer and his earmuffs were all anyone could talk about.
After the Olympics ended, papa Phelps shared this photo of his adorable family enjoying his first day of retirement in the pool, naturally.
Boomer, you keep doing you, and we'll have our daily dose of "awwww."