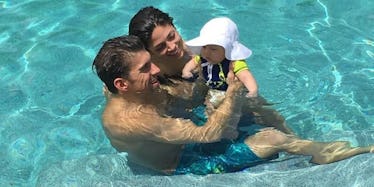 Michael Phelps Spent Day One Of Retirement Training Boomer For Olympics 2032
Instagram
By winning five gold medals and one silver medal at the 2016 Summer Olympics in Rio, US swimmer Michael Phelps ensured he's going out on top.
The 31-year-old, who reportedly just swam in the last Olympics of his career, is a 23-time Olympic gold medalist, but it appears the only title he cares about now is the role of being a dad.
Unsurprisingly, Michael Phelps spent his first day of retirement in a pool — you just can't keep this guy out of the water — but he wasn't trying to win any gold medals; he was simply playing with his three-month-old son, Boomer.
Phelps posted a photo on Instagram of himself, Boomer and his fiancée, Nicole Johnson, sharing the precious moment in the water.
The caption accompanying the above photo reads,
There's nothing like being back home!! Great way to spend my first day in retirement!! @boomerrphelps @nicole.m.johnson
For those thinking Phelps may come out of retirement in four years to compete at the 2020 games in Tokyo, well, I wouldn't hold my breath. Speaking on his decision to walk away from competitive swimming for good, Phelps reportedly said,
Done, done, done — and this time I mean it. I wanted to come back and finish my career how I wanted and this was the cherry on top of the cake. I'm done. I'm finished. I'm retired. I'm done. No more.
I can guarantee one thing: With three-month-old Boomer running around, there's no way Michael Phelps is going to be bored in retirement.
Citations: Michael Phelps Spends First Day of 'Retirement' Back in the Pool — With Son Boomer (US WEEKLY)