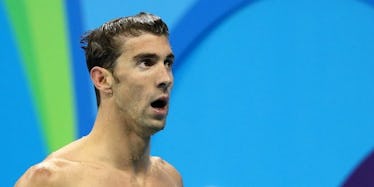 Michael Phelps Owes A Lot Of Money Because He Won So Many Gold Medals In Rio
REUTERS
The 2016 Summer Olympics in Rio have belonged to US swimmer Michael Phelps.
The 31-year-old has racked up six medals during his time in Rio — five golds and one silver — and he also gave us adorable pictures of his son, Boomer and a face that has been immortalized in Olympic meme history for years to come.
Apparently, Phelps is also going home with some cash in his pockets to accompany those six medals.
According to reports, at the 2016 Summer Olympics in Rio, the United States Olympic Committee will pay medal winners $25,000 for each gold medal, $15,000 for each silver medal and $10,000 for each bronze medal.
Now, who can tell me how much Michael Phelps is set to make for his domination of the competition? Yes, $140,000 is the correct answer!
It all sounds pretty great for Phelps, right? Well, hold the phone, because according to reports, Uncle Sam is coming for that money.
Yes, Olympic prize money handed out by the USOC is subject to income tax, and Phelps could reportedly owe around $55,000 for his amazing performance at the Rio Olympics.
According to USA TODAY, the maximum "victory tax" possible is $9,900 for each gold medal. For each silver and bronze, it's $5,940 and $3,960, respectively.
Congress has reportedly made attempts to keep Olympic medals and bonuses tax-free but have yet to find success in that initiative.
Speaking on those attempts, Senator Marco Rubio reportedly said,
We can all agree that these Olympians who dedicate their lives to athletic excellence should not be punished when they achieve it.
It would be wrong of me to leave out the fact Michael Phelps is worth about $55 million, so paying $55,000 is essentially nothing, but that shouldn't change your opinion about whether it's fair or foul for Olympians to be taxed for performing at the highest level.
Citations: Uncle Sam goes for gold, too: Up to $9,900 per Olympic gold medal (USA TODAY)