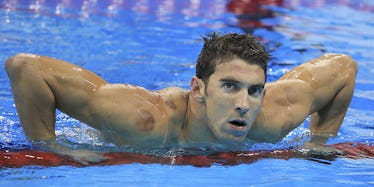 Michael Phelps' Favorite Photo From The Rio Olympics Is The Cutest Thing Ever
REUTERS
When it comes to which moment at the Olympics has been Michael Phelps' favorite, there's no question.
The embrace he shared with his 3-month-old son, after a dramatic gold medal finish in Tuesday night's 200m butterfly final, made Phelps visibly emotional when he spoke about it with NBC's Michele Tafoya.
He told her,
 You're going to bring tears to my eyes now. I wanted to be with him more. Being able to share that one moment that I had with him, it was definitely something that was very special.
His son, Boomer, is the addition to Phelps' life and post-race routine.
For years, Phelps would step out of the pool, walk to his mother and give her an embrace as he won medal after medal (after medal).
On Tuesday night, he did the same, but then came the moment with Boomer and a shot that captured just how special it was for Phelps.
The moment is definitely a shoe-in to go down as one of the defining images of Michael Phelps career — that is unless Phelps and his son share an even more touching embrace in the races to come.
Phelps is going for three more medals in Rio, which would add to his record of 25. And if he is successful in capturing those medals, you can be sure Boomer will be there to congratulate him.
Citations: Entertainment Tonight