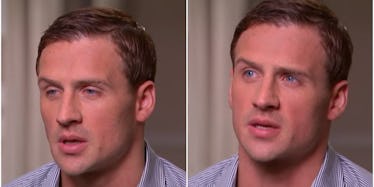 Ryan Lochte Fights Back Tears In First Interview Since His Rio Controversy
NBC
US Olympic swimmer Ryan Lochte has finally spilled the beans about what happened that night — and boy is he upset about it.
That little lie about being held up at gunpoint and robbed by men posing as police officers in Rio really spiraled out of control fast.
It ultimately landed with Lochte in front of NBC's Matt Lauer where he set the record straight in an emotional interview.
When grilled by Lauer, Lochte wells up and tries to fight back tears.
Lauer asks,
When you saw the news coverage of Gunner and Jack being taken off that plane at the airport, and  you knew — you've just said to me — they didn't damage anything in that gas station, and you're sitting at home in the United States, safe and sound, how did it make you feel?
Lochte explains,
Hurt. I let my team down and, you know. I wanted to be there, like I don't want them to think that i left them dry because they're my teammates and I wanted to definitely be there. I wanted to help out any way I could so I wanted to make sure they were home safe before I came out and talked.
It actually makes you feel sorry for the guy.
The whole thing kicked off after Lochte was interviewed by NBC's Billy bush the morning after the alleged incident. Here's that interview:
WATCH: Ryan Lochte recounts being robbed at gunpoint with his teammates in Rio. https://t.co/pXZNabPeFNhttps://t.co/62SlTOgoxP — NBC News (@NBCNews) August 14, 2016
In it, he said a man cocked a gun and pointed it at his forehead before making off with the team's money.
But Lochte has since gone back on these words.
He told Lauer that he was still drunk at the time of that interview and massively stretched the truth.
The swimmer said,
It was still hours after the incident happened. I was still intoxicated. I was still under that influence, and I'm not making me being intoxicated an excuse. It was my fault, and I shouldn't have said that.
Wow. Talk about a lie getting out of control.