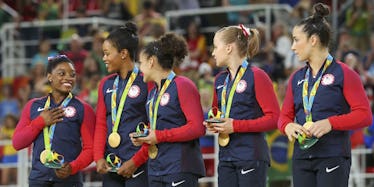 Simone Biles' Throwback Pic Of The Final Five Will Give You All The Feels
REUTERS
The Final Five went through some serious inspiring moments over the past few weeks.
The US women's Olympic gymnastics team came home with the team all-around gold, as well as a smattering of individual medals.
The team consisted of Simone Biles, Aly Raisman, Gabby Douglas, Madison Kocian and Laurie Hernandez. They're called the Final Five in honor of this being longtime coach Marta Karolyi's final year before retiring.
Raisman and Douglas are back-to-back champions from the 2012 London Olympics. Kocian and Hernandez scored medals on uneven bars and beam, respectively.
Biles, 19, is being acknowledged as the best gymnast in the world, and she will remain the greatest until the rest of the gymnastics world catches up to her. It is, truly, an incredible time to be alive and following gymnastics.
The women went from Rio to New York City, where they went on a media tour and saw "Hamilton."
But now, they're taking a break from each other for a little. They're all heading back to their own homes. They'll be reuniting soon — don't worry — for the Kellogg's gymnastics tour. But for now, they're enjoying the pleasures of home.
Biles posted this Instagram on Thursday morning to say a brief goodbye to her champion teammates:
It shows all five of them being adorable on top of the Empire State Building. It demonstrates one of the best parts of this group; even though they're often competing against each other, they are friends who support and cheer for each other.
Biles posted on Twitter that "being home never felt better."
She was greeted in her hometown of Houston by the mayor and a group of fans.
Kocian, too, had an awesome greeting team when she landed back in Dallas.
Plus, Kocian got some home treats:
Hernandez didn't have too far to travel to get back home. She's from New Jersey, just across the river from New York City, so her homecoming apparently wasn't grand enough for an Instagram or tweet.
Biles echoed Raisman in her tweet about being home on Thursday.
The women are taking a well-deserved break before heading out on tour. Douglas will be returning to TV to judge the Miss America competition and there are rumors of other women joining "Dancing With the Stars."
And then? Well, we have high hopes for Tokyo 2020.