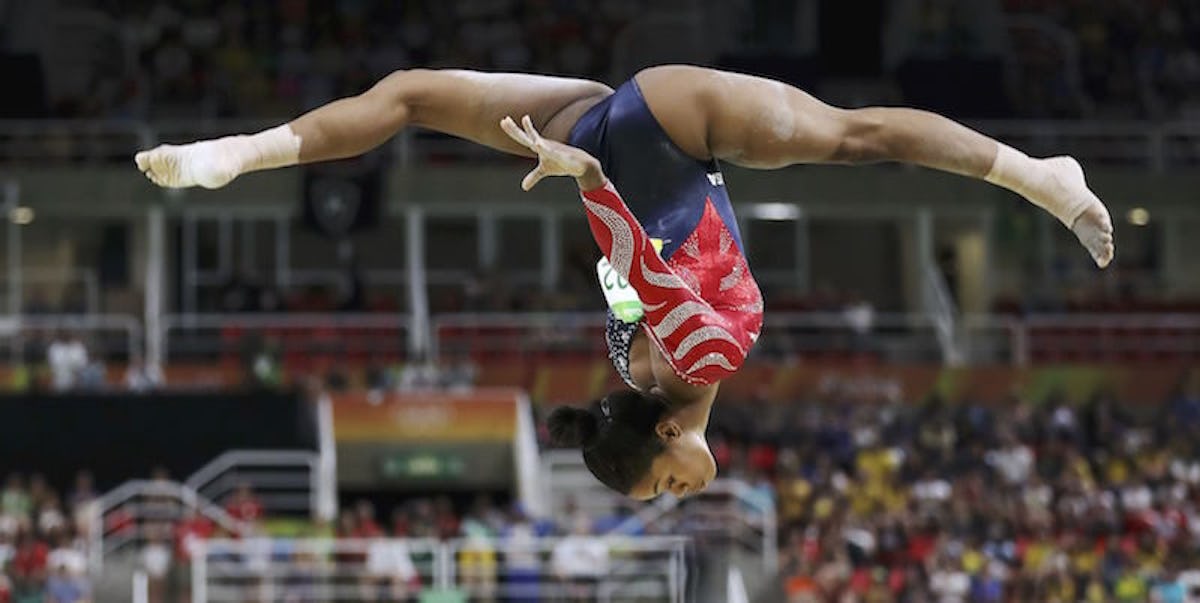 Gabby Douglas Is Headed To The Miss America Pageant Now That Olympics Are Over
REUTERS
Two-time Olympic gymnast Gabby Douglas is heading to Miss America now that the Rio Olympics are over.
She just announced she will be a judge at the 2017 Miss America contest in Atlantic City in September.
In a statement, Douglas said,
Miss America has been such an amazing event for so many years and I am excited to have the opportunity to judge the competition this year. The contestants are a great example of strong women across America and I especially look forward to hearing the platforms that each of them will represent.
Douglas will be joining Laura Marano, Mark Cuban, Sara Foster, Cole Swindell and former Miss America Sharlene Wells Hawkes as judges at Miss America.
This is probably an extra exciting opportunity for Douglas, who is herself so frequently judged by others, both on and off the gymnastics floor.
Douglas was the first Olympic all-around individual gold medalist to make it back to the Olympics a second time since legend Nadia Comaneci did in 1980.
She helped lead the American women to victory in the all-around team competition and qualified for the uneven bars event final.
Douglas also scored third highest in the all-around individual qualifier, behind teammates Simone Biles and Aly Raisman. But she could not compete in the finals as Olympic rules dictate only two athletes from each country can go to the finals.
Despite these incredible achievements, Douglas was criticized left and right for not smiling and displaying positive emotions enough. Just like in 2012, Douglas was criticized for her hair and other aspects of her appearance. She spoke out about being bullied online.
As for the other members of the "Final Five" -- the final women's gymnastics team coached by Márta Károlyi -- they have a Kellogg's tour to get on, where they'll show off their moves around the country.
They're also embarking on a media tour, which included a stop at the "TODAY" show on Tuesday morning, where they tried to act excited about a ball pit.
It's a party in the USA! The #FinalFive is in NYC and appeared on the @TODAYshow this morning pic.twitter.com/MzLiOhMrVX — Aly Raisman Fans (@Aly_RaismanFans) August 23, 2016
On the show, they talked about being pumped to get back home to see their dogs.
Laurie Hernandez, the youngest member of the team at 16, is joining the tour while getting back to studying. She is homeschooled. She's also raking in the money with an endorsement from Crest.
Biles told W she wants to be getting back to normal life soon and "being a normal teen." She said,
We all deserve a break.
But the women are also looking ahead to the 2020 Olympics in Tokyo. They've voiced hopes about making it back to the Olympics, although women's gymnastics careers are short, and life is unpredictable.
But Raisman is already back in the gym, and many people would be hyped to see her making it back for a third round.
Citations: Daily Mail, USA TODAY, PEOPLE, Huffington Post, W magazine