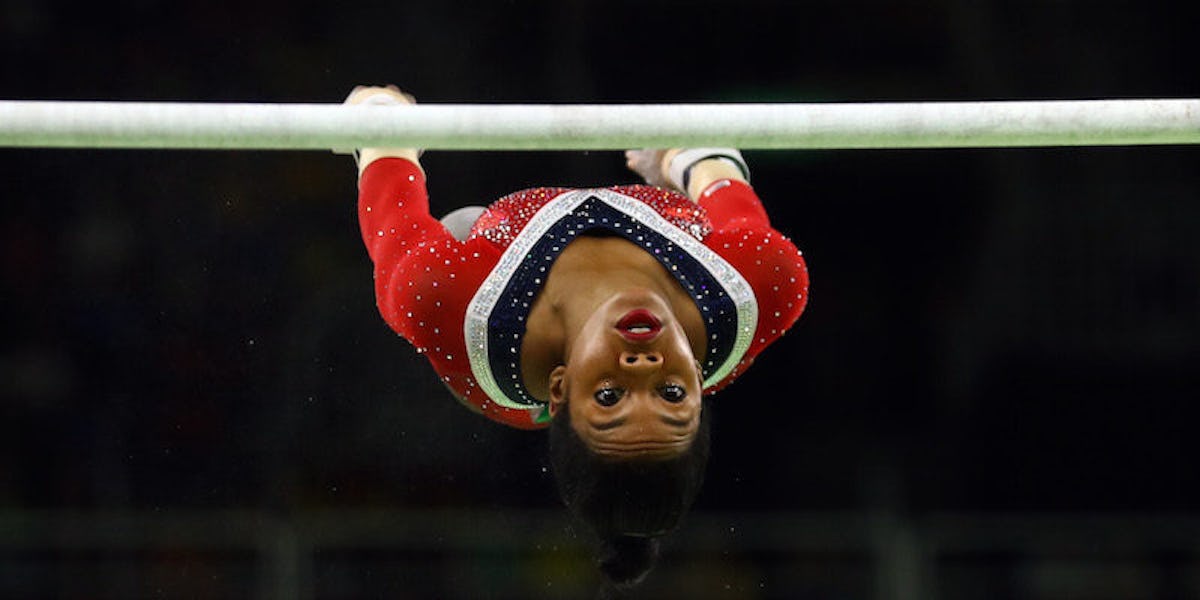 Gabby Douglas And Her Mom Could Teach Us All A Lesson About Cyberbullying
REUTERS
Gabby Douglas is a more talented and accomplished human at age 20 than most of the population will ever be.
As with anyone enviable in the public eye, Gabby's decorated Olympic career has attracted an onslaught of unsolicited criticisms.
And, as people who feel entitled to pick apart other people from a distance are wont to do, social media users have been shouting their snap-judgements into their keyboards.
Recently, the major "controversy" surrounding the gymnast was when Douglas didn't put her hand over her heart for the National Anthem. Twitter users interpreted this as a deliberate gesture and felt personally obligated to call her out for being "unpatriotic."
Then, some people moved on to questioning her hair, which was first attacked in 2012.
Why is Gabby Douglas' hair still not combed? — WHITLEY (@xotailand_) July 11, 2016
While Douglas' hair is being scrutinized, her teammate Aly Raisman's has actually been praised for going against the mold.
The public embraced Raisman's "messy bun" as endearing (The 22-year-old pulls her hair back the best way she can, she's just like us!) and emblematic of her competitive focus; she's more interested in a functional 'do than matching antiquated aesthetic standards.
It's great we're complimenting Raisman's hair (even though still not centrally related to her routine), but the same treatment wasn't afforded Douglas.
In an interview with Reuters, Douglas' mom, Natalie Hawkins, explained the cyberbullying to its full extent.
She said,
She's had to deal with people criticizing her hair, or people accusing her of bleaching her skin. They said she had breast enhancements, they said she wasn't smiling enough, she's unpatriotic. Then it went to not supporting your team mates. Now you're 'Crabby Gabby.'
Internet trolls really covered a lot of ground with their insults...
She continued,
You name it and she got trampled. What did she ever do to anyone?
That's a really good question: What did she ever do to anyone?
Well, she showed the world some of the most jaw-dropping capabilities of the human body, becoming the first African-American gymnast to win the Olympic All-Around gold in 2012. She embodied the belief "nothing is impossible with hard work," defying all odds to return to the Olympics. She wrote two books and now boasts three gold medals from the Rio and London Games.
She is literally a walking, talking encouragement for young girls and athletes.
With our phones glued to our hands at all times, though, I guess it's only to be expected a lot of people would be quicker typers than they are thinkers.
In explaining why the unpatriotic claims were so hurtful to their family, Hawkins pointed out how ignorant people who don't know her daughter were being.
She said,
We grew up in the military community. My mum spent almost 30 years in the military, my dad's a two-time Vietnam vet. Because of that it was so insulting that they would accuse my daughter of being unpatriotic when we are so tied to the military family. When the 'Star-Spangled Banner' is played, most military members either salute or stand to attention.
Luckily, for every nasty comment made on Twitter, there were just as many comments pointing out the idiocy of the bullying and highlighting what Douglas really represents in the Olympics.
On her "Star-Spangled Banner" stance:
On her hair:
All these girls are making nasty posts about Gabby Douglas' hair.. Like ok... Your edges are laid.. But you're sitting on your couch.. — badgalkiki (@kiana_imani) August 11, 2016
Despite the unwarranted opinions being slung at her daughter, Hawkins has decided to take the high ground in the situation -- as her daughter has done with each new wave of criticism, repeatedly apologizing to the people she offended.
Hawkins said,
They keep attacking her about not smiling but they don't know what she is dealing with. If they did, this would not be a conversation. They would (understand). But this is not the time or place to tell that story.
In the wake of internet trolls slamming Gabby for not smiling enough or making her hair look pretty enough, this also seems like a good time to mention the disparate ways men and women's gymnastics are judged...
Wait.... the men aren't expected to shimmy? That's weird because in a comprehensive piece on Simone Biles written earlier this year, Buzzfeed noted that the 19-year-old's coach was tasked with choreographing a "sexier" floor routine for the athlete.
Biles -- a 4-foot-8, record-breaking powerhouse -- had to focus on weaving dance moves and hip shakes into complicated feats of athleticism to please the judges. But at least everyone seemed to like her hair.
Despite superficial criteria expected of female gymnasts, despite people over-analyzing everything she did outside of the actual competitions, despite critics drawing attention away from all she's done and toward irrelevant concerns, Douglas remained a true role model, shifting the tone of her career back to one of empowerment.
After competing in her final event Sunday, in which she placed seventh in the uneven bars, Douglas said,
For me, when you go through a lot and you have so many difficulties and people against you, sometimes it just determines your character. Are you going to stand or are you going to crumble? In the face of everything, still stand.
At just 20 years old, Douglas has more mental toughness than most of the population as well. The least we can do is try to channel her outlook, even though I doubt too many of us could ever come close.
[olympics]