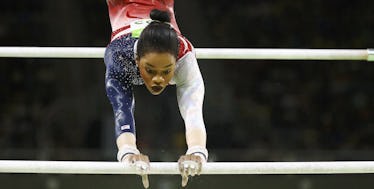 People Are Mad At Gabby Douglas For Being 'Disrespectful' During National Anthem
REUTERS
Olympic gymnast Gabby Douglas didn't put her hand on her heart during the US national anthem, and now, she's getting so much stick for it.
#GabbyDouglas, I've said great things about you BEFORE the National Anthem played! Have some respect for your flag and your country!#USA — Kimberly Ellen (@KimberlyEllen93) August 10, 2016
So, she definitely hates America, yeah? I hear representing the country for gold is the least patriotic thing you can do.
God!
Some of you guys out there are taking this way too seriously.
The outrage this is causing is just ridiculous. So much so, people are tweeting about how stupid the whole thing is:
Gabby felt like she had to explain herself, so she posted this on Instagram:
#GoUSA#TeamUSA#FinalFivepic.twitter.com/vzhFZxYOWb — Gabrielle Douglas (@gabrielledoug) August 10, 2016
In the post, she said,
First I want to say thank you everyone for all your support! It's a huge honor for me to be able to represent #TeamUSA. In response to a few tweets I saw tonight, I always stand at attention out of respect for our country whenever the national anthem is played. I never meant any disrespect and apologized if I offended anyone. I'm so overwhelmed at what our team accomplished today and overjoyed that we were able to bring home another gold for our country.
Here's a reminder she's still slaying hard, despite all the negativity.