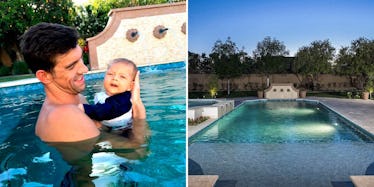 Michael Phelps Bought A New Mansion And Obviously The Pool Is The Best Part
Zillow/Instagram
With Michael Phelps sitting on the fence about the Tokyo 2020 Olympics, all eyes are on baby Boomer to become the next swimming legend.
And where better to train than this badass pool?
Yep, the little swimmer is sure to take over his dad's throne as he clocks up the lengths in this piece of watery art:
Recognize the pool?
That's because you've probably seen it on Phelps' Instagram.
He posted a picture of him and his son splashing around just before the Rio Olympics.
The swimmer dropped $2.5 million on the Scottsdale, Arizona, mansion late last year, according to TMZ.
It's more than 6,000 square feet of outrageous house, featuring five bedrooms and six bathrooms. Phelps said back in January,
Our backyard looks right at Camelback Mountain You go outside in our backyard and we have orange and tangerine and lemon and lime and peach and apple — all these different fruit trees growing in our backyard.
Sounds swanky. Let's take a look around.
Here's the glorious front entrance:
Please, follow me through to the kitchen:
This is chill zone one (there are countless chill zones):
The dining room complete with ornamental table twigs:
Chill zone two:
Bedroom with bizarrely placed chairs so people can watch you sleep at night if you're into that thing:
OOOO, AHHHH:
Awesome job, Phelps. If you're going to retire, do it in style.
Citations: TMZ