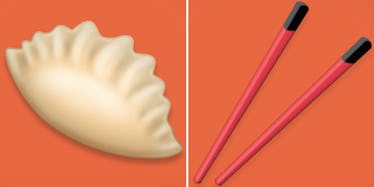 Delicious New Food Emojis Will Let You Express Your Inner Foodie
Emojipedia
On Tuesday, June 20, Unicode announced its latest update to our emoji-loving world, 10.0.
The update is packed with new mystical creatures (mermaids, genies, fairies), animals, flags, and my personal favorite: brand spankin' new food and drink emojis.
If, like me, you're a foodie obsessed with the latest viral unicorn food and all snacks in between, please allow yourself a moment to get excited.
Unicode 10.0 welcomes a whopping 13 new food and drink emojis to your keyboard, including the much-needed sandwich emoji.
(I don't think I'll ever actually type out the word sandwich again, TBH.)
The only bummer is that -- as we previously reported -- iPhone users will probably have to wait until later this year to actually use them, presumably when Apple updates the iOS.
"Apple generally updates iOS with new emoji support in September-December each year," Emojipedia offered in their announcement post. That's not too far away, right?
Anyway, let's walk through all 13 additions you can expect once Apple decides to release an iOS update (and also, hopefully, the iPhone 8).
1. Sandwich
Like I previously mentioned, can't wait for this one.
2. Takeout Box
Asking your roomies if they're down with sesame chicken for dinner is about to get so much easier. The takeout box says it all.
3. Chopsticks
While the takeout box has chopsticks inside it, you'll also be able to use an individual pair.
4. Dumpling
It's the perfect food to eat with chopsticks. This emoji could also double as a pierogi or a half moon ravioli.
5. Fortune Cookie
Now you can wish your friends good luck with a fortune cookie!
6. Broccoli
I really don't know when I'd need the broccoli emoji, but I like the idea of having one.
7. Bowl With Spoon
This could be noodles, cereal, rice — you name it.
8. Canned Food
Specifically tomatoes, it seems.
I'm starting to think that my entire grocery list can be written in emojis.
9. Coconut
Even though coconut oil isn't as healthy as we once thought, this halved coconut is pretty summery, if you ask me.
10. Cup With Straw
I'm instantly thirsty after looking at this cup with a straw. It's perfect for your post-Starbucks Instagram caption.
11. Cut of Meat
How was this not already a thing? Steak-lovers, get ready.
12. Pretzel
Now all I need is a mustard emoji.
13. Pie
The steam rising from this fake pie is actually mouth-watering.
Okay, it's time for real food.
But seriously, is the new iOS here yet?