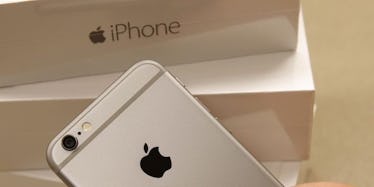 iPhone 8 Might Not Be Coming When You Thought, So Don't Toss Your Old Cell Yet
Getty Images
OK, techies, now is probably a good time for you to take a deep breath.
Just when you thought you were in the clear, it appears Apple's iPhone 8 might not be arriving in September as promised (stay calm).
According to 9to5Mac, Apple analyst KGI Ming-Chi Kuo believes mass production of the OLED iPhone 8 will most likely be pushed to October or November (I know, I know).
I'm not going to lie: This whole "being patient" thing isn't exactly easy.
First, we warned about a possible iPhone 8 shortage. Then, we were told we are going have to wait what feels like a century for the phone to arrive after placing our order -- and now, this.
Apple is certainly playing with our emotions, and it's safe to say the company's winning.
But if we we're expecting cutting-edge technology, the process cannot be rushed. The under-glass fingerprint sensor, OLED display and 3-D front camera are highly-anticipated, so it's better if everything's done properly, right?
Right.
If patience is not one of your strong suits — no judgment, it's not one of mine, either — Refinery29 reports the iPhone 7S and 7S Plus will not experience the same delays as the iPhone 8.
So if you're absolutely dying to ditch that 6, there is some hope... but there's certainly a few things to keep in mind (your wallet, for example).
The iPhone 8 might cost over $1,000 for a 256 GB model, according to predictions, while the iPhone 7 might be more within reach for shoppers.
Announcements and press events are expected to continue according to schedule for the 10-year-anniversary iPhone 8 (or iPhone X) but it's definitely not the same as having the phone in your pocket when you expected it.
Either way, it's going to be OK — positive thoughts, everyone.
If we're going to receive out-of-this-world technological advances, another month or two might not be so bad in the grand scheme of things.
But, if you're totally in favor of an immediate upgrade, you can always opt for an Android...
Citations: We Might Not Be Getting A New iPhone In September (Refinery29), KGI: iPhone 8 mass production delayed to October/November as major component upgrades cause supply bottlenecks (9to5Mac)