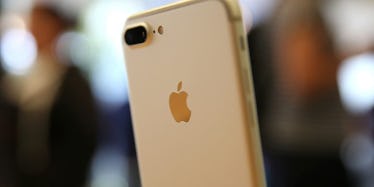 10 iPhone Storage Hacks To Open Up Space If The New iOs Update Isn't Enough
REUTERS
Since Apple released the almighty iOS 10.3 update, iPhone users have been overwhelmed by the amount of space available on their devices.
Rumor has it the new update gives you more storage instead of taking it away. Hooray!
(I say "rumor has it" because I'm usually the last one out of all my friends to actually update my phone — and I still haven't.)
If you have, you've probably noticed an increase in your storage like this guy:
If you're someone who already updated their device and is still running out of space, there's hope for you -- don't worry.
Running out of storage on your iPhone seems to be the norm (especially if you still own a 16 GB cell) but people are finally starting to figure out how to create more space without paying for a new phone.
Shockingly, the space-saving hacks are more obvious than you'd think.
1. Delete your damn Tinder messages.
We're all millennials, and chances are you and all your friends have a Tinder account with 100-plus matches and conversations. Don't lie -- I know they're there.
If they didn't work out, delete them.
According to AOL, keeping old Tinder messages around will clog your phone's memory. They'll probably remind you of a bad date, too -- so you're better off just getting rid of 'em.
2. Get rid of old iBooks or Podcasts that you're done with.
Everyone loves a good read or interesting listen, but once you're done feeding your mind, delete them off your phone.
Don't fret -- deleting an iBook off your phone doesn't mean it'll be deleted forever. It'll still be in your iCloud for you to re-read whenever you want. By deleting a copy of the book, you'll be freeing space on your phone.
The same goes for podcasts. It's been reported the recorded conversations will take up space on your phone.
3. Take advantage of the almighty iCloud!
The ever-so-elusive iCloud exists for a reason, people.
Instead of packing your phone with pictures, movies, music and books, upload them to your iCloud and download what you need when you need it.
4. Pick and choose which songs you transfer from iTunes.
Downloading your entire iTunes library onto your iPhone probably isn't too wise.
Songs take up a lot of storage, and MacWorld came up with a genius suggestion to those who have an extensive taste in music.
Download the iTunes Match app. It'll let you download music straight from the iCloud without needing to download all the songs in your library.
Alas, more storage.
5. Check which apps are using the most storage space on your phone.
Whether you know it or not, there are probably apps on your phone that are sucking up more space than you realize.
To figure our which apps are using the most storage, follow these steps:
Settings > General > Storage & iCloud Usage > Manage Storage
After a few seconds, a list of apps will appear and the ones toward the top are taking up the most space.
(If you aren't using them, delete those bad boys.)
6. Delete the apps you aren't using.
This one should be obvious, even for the most inexperienced iPhone user.
Everyone has a few forgotten apps floating around their home screen that they might've forgotten about -- and if that's you, delete them! They're taking up space for no apparent reason, and your iPhone will thank you.
To delete the apps, hold down an app icon and wait for the apps to start shaking. Once they're jiggling about the screen, press the "X" in the left-hand corner and say goodbye.
7. Delete your old text messages.
If you're anything like me, you probably have text messages in the depths of your phone that date back to the year 2015 (don't be ashamed).
Unless you're keeping sacred conversations and holding onto a text strand for any given reason, delete those messages.
In order to do so, go to Settings > Messages > Message History > Keep Messages. Once you're there, you can click "Delete."
This will give you the opportunity to delete messages within a certain time frame, which will open more space on your phone.
8. Turn off your Photo Stream...
You probably aren't even aware that you've had your "Photo Stream" turned on this entire time.
Your Photo Stream allows you view the pictures you've uploaded to your Mac from your iPhone or iPad, and although they aren't full resolution, they're taking up a lot of space.
To delete the Photo Stream from your iPhone, go to Settings > Photos & Camera, and then deselect "My Photo Stream."
9. ...and stop taking bursts.
Do you know that annoying feeling when you hold down your camera button for one picture and end up with ten blurry shots of the same subject?
That's called a "burst," and since you're taking multiple pictures at once, it's taking up more room on your phone and it's harder to delete.
Unfortunately, you can't turn "burst mode" off (because that's not a thing). But, MacWorld suggests you use the volume button to take pictures instead to avoid the chance of "bursting."
10. Delete your old, useless notes.
No matter who you are or what you do, you probably have at least 20 notes on your Notes app right now.
Even though they might've been helpful when you wrote them, chances are you don't need 'em anymore.
By deleting some notes, you won't be making too much of a storage difference -- but at least it's something.
There you have it, everyone.
If you're constantly running out of storage space and are seeking an answer to your iPhone prayers, try a few of these hacks out.
The amount of storage you create will have your phone running smoothly in no time.
Citations: 10 iPhone storage hacks that will save your day (AOL), How to free space on an iPhone (MacWorld)