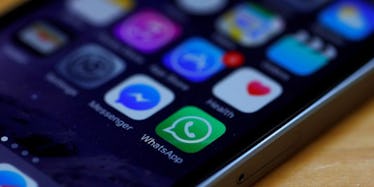 Everyone's Upgrading iPhones To iOS 10.3 For Glorious New Storage Feature
REUTERS
If you're an iPhone user, you're in for a treat the next time you update your phone.
As if by magic, your device — iPads, Macs and the rest of the gang included — will suddenly have a lot more storage space.
That's because the soon-to-be-released iOS 10.3 makes storage more efficient.
People who have already got their hands on the beta of the brand new update are already enjoying the new storage space.
According to 9To5Mac, the new Apple File System (APFS) will replace its ancient predecessor, the HFS+ system, which was introduced long before new tech truly optimized storage space.
What this means is after downloading iOS 10.3, you should discover your iPhone's storage capacity and the amount you're using will change — for the better.
As someone who's flirting dangerously with having ABSOLUTELY ZERO storage room on his phone, this is like Christmas morning for me.
For years, we have struggled.
My poor old iPhone 5 (yes, I live in the Dark Ages, get over it) has a capacity of just 16 GB.
And after apps are accounted for, any space left over is taken up almost entirely by music — and heartbreakingly, I've been forced to delete songs just so my phone can keep functioning.
But soon, those days will be a thing of the past.
Take this guy, who received the update early and is celebrating having 2.73 GB available, compared to 1.87 GB before the update.
It may not seem like much, but that 0.86 GB can go a long way. Trust me.
You'll also see he is now using 9.5 GB compared to 10.07 GB before, and it's all down to the more efficient way APFS processes your data.
It's not known exactly when iOS 10.3 will drop, and updates are often released at different times depending on where you live.
To check how close you are to living a dangerous, storage-lacking life, just open Settings, then General, Storage and iCloud Usage.
And if you need more tips on creating extra storage space, we've got you covered.
Citations: What Is Apple's Upcoming APFS? (9To5Mac)