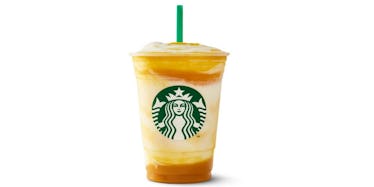 I Tried Starbucks' Mango Pineapple Frappuccino, And It Tastes Like A Creamsicle
Starbucks
Starbucks released its ultra colorful summer '17 drinks on June 20, including Berry Prickly Pear Frappuccino Crème and Mango Pineapple Frappuccino Crème.
Each limited edition frapp is packed with bold, umbrella-worthy tropical flavors reminiscent of lazy beach days.
I instantly wanted to try them both like, "Take all my money, Starbucks."
Alas, I made the tough decision to taste the sunny Mango Pineapple one first.
In their press release, the coffee giant says this new non-coffee beverage features their tasty mango crème frapp mix poured over a mango-pineapple purée.
It's supposedly topped with yet another layer of the sweet fruit blend (not whipped cream!) before serving.
Jennica Robinson from the Starbucks Beverage Development Team described the pretty creation like this:
The mouthwatering fruit purée forms ribbons of bright color throughout the Frappuccino, creating creamy and fruity layers of flavor as you sip the beverage.
I mean, it sounds amazing, right? I was so ready.
So off to my neighborhood Starbucks I went.
At first, the barista had no idea what I was trying to order. (It's worth noting that there was only one tiny display about the new drinks.)
"A mango frappuccino? Do you want whipped cream?"
His coworker stepped in when I was like, "No, the one that just launched. I don't think it comes with whipped cream?"
We figured it out and my $5.72 (after tax) grande-sized order was officially in the works.
I watched the barista as she blended up the mango frapp just like the press release mentioned.
However, she didn't actually start with a layer of the purée like I thought she would.
Instead, she poured the mix into the cup and drizzled the mango-pineapple purée on top until it swirled down the sides, resulting in a similar look to the one I saw on Starbucks' website (but not exact).
It wasn't a huge deal though. The flavors are still the same, I imagine.
While we're on the subject of flavors, let me tell you: they're good!
The mango and pineapple somehow come together to create a refreshing, not-too-sweet Creamsicle taste, which I welcomed on my walk home in the blistering New York City heat.
The bright yellow purée against the white canvas of the mango mix was stunning IRL, too.
It really is like summer in a cup.
Will you try the new Mango Pineapple Frappuccino Crème? If you do, let me know what you think!