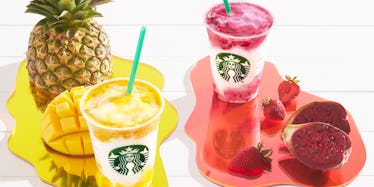 Starbucks' Vibrant New Frappuccinos Made With Real Fruit Are Summer In A Cup
Starbucks
The rumors were true, you guys.
Starbucks just launched two new frappuccinos just in time for summer on Tuesday, June 20, and they look so beautiful.
The beloved coffee chain added the brand new coffee-free drinks on the heals of Lady Gaga's Cups of Kindness campaign, which also involved two new menu items: Matcha Lemonade and the Voilet Drink.
But these frapps are blended rather than served over ice, making them sort of next-level and equally ready for a coveted spot on the 'gram.
Here's the lowdown on your new faves: They're called Berry Prickly Pear Frappuccino Crème and Mango Pineapple Frappuccino Crème.
(Also, spoiler: I hope you like mango, because both of these are made with Starbucks' mango crème frapp mix. If you don't like mango, eek.)
Berry Prickly Pear Frappuccino Crème
Laced with vibrant swirls of deep purple berry goodness, this pretty drink sounds like it tastes just as good as it looks.
Per Starbucks' press release, the mango crème mix is first poured over a super tropical strawberry and prickly pear fruit purée, which "features subtle notes of hibiscus, passionfruit, and lime."
Then, in lieu of whipped cream, it's topped with another layer of that prickly pear goodness.
Jennica Robinson from the Starbucks Beverage Development Team described the prickly pear taste, and said, "Prickly pear has a similar taste to tropical melon and berry, and we found that it pairs really well with strawberries." YUM.
Mango Pineapple Frappuccino Crème
NBD, this is just sunshine in a cup.
According to Starbucks, this tropical delight starts with that same mango crème frapp being poured over a mango-pineapple purée that features a subtle zing of lime flavor.
Not to mention, it is so pretty.
Just like its sister beverage, this drink is finished with another layer of purée before it's ready to sip.
Both of these new menu additions are available as of June 20 in the U.S. and Canada while supplies last!
I'm not sure which one I want to try first, to be honest.