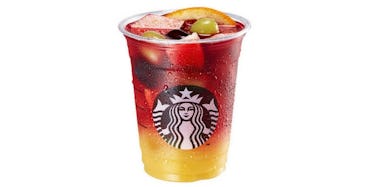 Starbucks' Sangria Red Tea Exists And It's Just As Gorgeous As The Pink Drink
Starbucks
The world of colorful iced drinks just keeps evolving, and Starbucks is basically spearheading the rainbow initiative.
The coffee giant recently released the Cups of Kindness collection in partnership with Lady Gaga's Born This Way Foundation, which includes the coveted Pink Drink and its gradient cousin, Ombré Pink Drink.
Now, however, there's a new ombré relative in the Starbucks family:
Sangria Red Tea.
The drink was released this week, according to Delish. As with any new release, snaps of the gorgeous red-orange beverage are already all over social media (naturally).
If I were to describe this gorgeous red-orange drink based simply off its looks (how vain of me), here's what I'd go with: It looks like sunshine in a freaking cup.
Like, I'm pretty sure you can feel the wind blowing in your hair with each sunny sip.
Plus, like a true sangria, this beverage is packed with real fruit.
I'm not sure if that makes it a healthy snack, but it does appear to include orange slices, apple slices, and grapes in addition to the (presumably) yummy tea.
I say "presumably" because of this major bummer: It's only available in South Korea.
Let's take a moment of silence for my Sangria Red Tea tasting dreams.
Starbucks' website doesn't give a whole lot of background on the ingredients, either.
The top half of the drink could be the same Iced Passion Tango Tea from last year's equally popular (and available in the United States) Teavana Shaken Berry Sangria Herbal Tea. The bottom half could be some sort of orange juice or maybe even a mango purée.
I wish I could give you a solid answer, but I can't yet.
Take a look at this beautiful product shot from the site.
It's ready for a hot summer day, styled perfectly with bits of fruit.
If you live in South Korea, please go forth and try this beautiful creation! Let me know how glorious it tastes.
I'll be here sippin' my Matcha Lemonade.