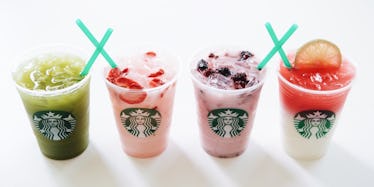 Starbucks And Lady Gaga Team Up To Release New Rainbow Drinks For A Good Cause
Starbucks
Rainbow drink fans, take a seat. Let me tell you about Starbucks' new collection of colorful iced beverages.
First thing's first, the collection, dubbed Cups of Kindness, was created in partnership with Lady Gaga's Born This Way Foundation, according to Starbucks.
The collection debuts on June 13 for a week-long event aimed at -- as the name suggests -- spreading kindness. It features four brightly-hued flavors (including two new menu items) which Lady Gaga selected herself.
Are you ready to order one of these and snap a photo for Instagram? Same.
Throughout the week (until June 19), 25 cents for every qualifying beverage sold will go towards the Born This Way Foundation and its empowering mission to help young adults.
"We're healthier and happier when we live our lives with compassion and our communities are stronger when we treat one another with generosity and respect," Lady Gaga said in a press release, explaining why she's excited for the joint endeavor.
On the off chance that wonderful message hasn't already given you "a million reasons" to treat yo'self to a Starbucks drink, here's a breakdown of what exactly you can order for the amazing cause: Matcha Lemonade (Lady Gaga said she "fell in love" with this one), Violet Drink, Pink Drink, and Ombré Pink Drink.
Obviously, the Pink Drink love is nothing new. (It has, however, come a long way since its time on the secret menu. As of May 2017, the ombré version is even a permanent option.)
Pink craze aside, I kind of can't wait to try the newbies: Gaga's favorite, the Matcha Lemonade, which is made with finely ground Teavana matcha green tea combined with crisp lemonade, and the Violet Drink, which is made with the Very Berry Hibiscus Refresher and coconut milk.
Regardless of how many cups of these drinks are sold, Starbucks has agreed to contribute at least $250,000 to the Born This Way Foundation... so drink up!