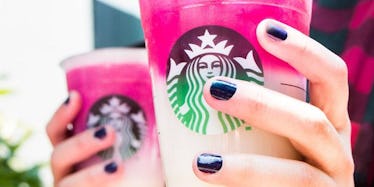 Starbucks Added The Ombre Pink Drink To Its Year-Round Menu And It's Gorgeous
Starbucks
For a long time, Starbucks' Pink Drink was only known and advertised as a "secret menu" gem.
The deliciously sweet drink was originally created by customers last spring who decided to experiment with the Strawberry Acai Refresher by mixing it with coconut milk instead of water.
Alas, the infamous Pink Drink was born.
Soon enough, the beautiful beverage made its way to Instagram feeds and people immediately caught onto the breathtaking ombre taking place inside their Starbucks cups.
Thankfully, Starbucks realized how obsessed we were with the magical Pink Drink and decided to add it to their official menu in April 2017.
However, the company recently revamped the beverage and called it the "Ombre Pink Drink" in an announcement on Wednesday, May 31, and added it to their official year-round menu.
In other words, you'll finally be able to order the Ombre Pink Drink off the Starbucks menu whenever your heart desires.
Get your 'grams ready, people. This is one pretty drink.
In fact, this drink is so damn gorgeous that I'm going to feel a little guilty actually drinking it.
According to Starbucks, the upgraded Ombre Pink Drink is made from mixing Cool Lime Starbucks Refreshers with creamy coconut milk and adding a splash of Teavana Shaken Iced Passion Tango Tea.
It's probably going to be my favorite drink this summer... just sayin'.
A Starbucks spokesperson talked to Business Insider about the upgraded drink, and said,
The Ombre Pink Drink is inspired by the beloved Starbucks Pink Drink and the creativity our customers and partners (baristas) continuously have when crafting a perfectly customized, beautiful beverage. We created the Ombre Pink Drink because of our customers' love for the Starbucks Pink Drink and their ongoing enthusiasm for delicious and beautiful beverages.
If you were a fan of the Pink Drink and hope to give the new Ombre Pink Drink a taste, stop by your nearest Starbucks. The beverage is available in participating stores in the U.S., Canada, Mexico, and Puerto Rico.
I better some see pretty Instagram pics, you guys!