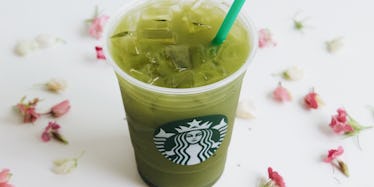 Lady Gaga Loves Starbucks' New Matcha Lemonade, So I Tried It And I'm Obsessed
Starbucks
When news broke of Lady Gaga's Born This Way Foundation collaboration with Starbucks, I knew I had to try a drink from the Cups of Kindness Collection.
With 25 cents of every cup sold going toward the organization -- whose mission is to empower young people -- it's pretty much the easiest, tastiest way to make a difference for the next week.
Though there are a total of four dairy-free drinks in the collection (Matcha Lemonade, Pink Drink, Ombré Pink Drink, and Violet Drink), my choice to try Matcha Lemonade was super easy to make.
For starters, Lady Gaga said she "fell in love" with the green beverage, so she basically recommended it. Also, I have a tree nut allergy and cannot drink coconut milk, which is sadly (for me) the main ingredient in the three others on the menu.
Alas, my decision was made.
I know you may be wondering, WTF does the Matcha Lemonade that Lady Gaga loves so dearly taste like? Well, it tastes like lemonade!
It's like a pretty, boldly-colored take on the summer classic with all the health benefits of "finely ground" Teavana matcha green tea dissolved into each citrusy sip.
Disclaimer: I hadn't actually tried matcha before this test, so I was expecting to taste it in there, but did not.
If, like me, you're a fan of coffee as your main source of caffeine, I'm here to say that the matcha did actually give me a similar burst of refreshing energy. (It's also hard to not feel amazing while sipping an ice cold drink in the summer's heat. But the green tea powder helped for sure.)
Another note: Sugary drink haters will love that this new Starbucks menu item isn't overly sweet. They don't add any kind of syrup to it, so it's literally just matcha and lemonade.
Overall, I recommend it. I'm already a little obsessed and wish I'd ordered a Venti.