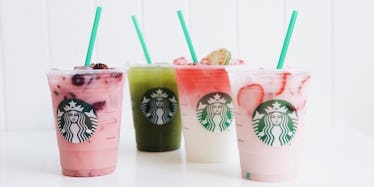 Starbucks Will End Donations To Lady Gaga's Foundation Very Soon, So Go ASAP
Starbucks
Today might as well be a national holiday because my favorite singer collaborated with my favorite coffee company to release a collection of refreshing rainbow drinks for a good cause.
This huge news, guys, so pay attention.
Starbucks released a collection of drinks on Tuesday, June 13, called the Cups of Kindness Collection. The collection consists of four drinks chosen by Lady Gaga, which include the beloved Pink Drink, the Ombré Pink Drink, and two brand new beverages, Matcha Lemonade and the Violet Drink.
They sound (and look) delicious, I know.
I know you're probably asking yourself, "Why is Lady Gaga teaming up with Starbucks, anyway?"
Well, the answer is simple and inspiring. As announced by Starbucks, the coffee mecca is partnering with the pop star's Born This Way Foundation to spread kindness and "support youth wellness and empowerment."
Starting today, Starbucks will be donating 25 cents from each drink from the Cups of Kindness Collection to Lady Gaga's foundation.
In a press release, the singer expressed her gratitude toward working with Starbucks in the sweet collaboration, and said,
We're healthier and happier when we live our lives with compassion and our communities are stronger when we treat one another with generosity and respect. Born This Way Foundation and I are so excited to partner with Starbucks to help inspire positivity and love through the Cups of Kindness collection.
But, of course, there's a catch.
As much as we'd all love to indulge in these delicious new while donating 24/7, Starbucks will not be continuously donating to the cause throughout the year.
In fact, the charitable coffee company will only be donating to Gaga's Born This Way Foundation for seven days.
SEVEN. WHOLE. DAYS.
According to Starbucks' press release, they will be donating money from each beverage sold on the Cups of Kindness menu from June 13 to June 19. So if you're feeling generous, go buy a refreshing new drink this week so your purchase will count toward donations.
Even though donations will only last seven days, Starbucks has committed to contributing a minimum of $250,000 to the Born This Way Foundation.