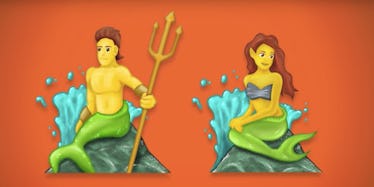 A Brand New Set Of Emojis Is Here And The Collection Is Mystical AF
Emojipedia/ YouTube
Just when you think there's an emoji for everything, the emoji masters behind Unicode Consortium release a new version of their Unicode Standard.
In other words, new emojis are here and the collection is pretty magical.
The update, 10.0, features additions like a sarcastic face with raised eyebrows (me, to be honest) alongside a handful of otherworldly figures such as fairies, genies, mermaids (I've already prepared my friends for an onslaught of this babe), wizards, vampires, and zombies.
It's almost as if Unicode peered into my soul before releasing emoji versions of my current obsessions.
But seriously, it just got a lot easier to communicate the scary mood on Walking Dead nights with those possessed-looking zombie emojis.
It's also worth noting that all these mystical creatures come in pairs with a presumed male and female option for each.
There's even two dinosaurs! (Though I don't think they're gendered.)
Besides the keyboard's magical makeover, you can also expect to find fresh food options in your arsenal, including a juicy steak, a sandwich, a dumpling, broccoli, half of a coconut (side note: did you hear that coconut oil isn't as healthy as we once thought?), and a pretzel.
I cannot wait to use these!
As an iPhone user, this is when I, sadly, have to reveal the major bummer that often comes with emoji releases.
This amazing set won't be available for iPhone until later this year, Emojipedia predicts.
"Apple generally updates iOS with new emoji support in September-December each year," they noted in their write-up on the exciting update.
And so we have to wait.
In the meantime, check out this video to see how amazing they truly are.
Actually, I recommend bookmarking Emojipedia's post as a reference. They've outlined all of 'em so it's super easy to find what you're looking for.
Personally, I'm most excited to start sending merpeople and wizards to my entire contact list.