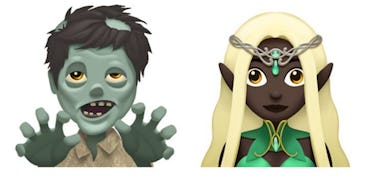 Here Are The New Emojis You Can Get With The iOS 11 Update, So Get Excited
Apple
UPDATE: Apparently, Apple's new emoji collection is not immediately available with iOS 11. However, it's been reported the new emojis will come at the end of 2017, so stay patient.
EARLIER: Guys, guess what? The iOS 11 update is finally here, which means new emojis for everyone. You get a new emoji, I get a new emoji, we all get new emojis! There are 56 new emojis that come with the iOS 11 update and there is certainly something for everyone. If you're a Walking Dead lover, then you're going to love the new zombie emojis offered on iOS 11. The most exciting part about the zombie emojis is that you can choose from a male or female zombie. Yay for inclusion! But that's not all.
To continue on with the supernatural aspect, Apple has released mythical emojis including mermaids, genies, wizards, vampires, and fairies. What's awesome about these emojis is that they come in various skin tones and in male or female variations. To look at these magical emojis in details, check them out here.
If you're into health, wellness, and athletics, Apple has created a series of athletic emojis perfect for you including rock climbers, yogis, and steam room emojis. These emojis are also inclusive and support various skin tones so that everyone feels represented. If fashion and accessories are more your speed, you can choose from the new scarf, glove, coat, socks, and baseball cap emojis.
For the animal lovers out there, you can choose from a series of new animal emojis that include a giraffe, cricket, zebra, and a T-Rex emoji, which everyone seems to be super excited about.
All my foodies out there will be able to enjoy an extensive range of new food emojis including a coconut, steak, dumpling, pie, and a pretzel. Aside from all the fun emojis, there are also multiple new "people" emojis, including a person with a headscarf, a child, an adult, an older adult, a breastfeeding woman, and a bearded man. These emojis also come in different skin tones, too.
Red-head emojis were left out of the equation this time around, but don't fret: you can expect to see red-head emojis in the summer of 2018. Included in iOS 11 are also three new flags that weren't included in the emojis before, which are the English, Scottish, and the Welsh flag.
Apple's iOS 11 update offers new users more than just emojis, though. You can also expect to see a series of new features including:
"Siri Translator," which allows Siri to translate up to five languages including English, Spanish, French, and Chinese
Ad blocking capabilities that will keep the sites you visit from following you around.
"Type To Siri," which will let you type questions and commands to Siri. Just be careful, because she might respond out loud.
A customizable control center, which will display multiple widgets at the same time.
The iOS 11 update became available on Sept. 19 and only works on newer devices. So if you happen to have an iPhone 5 or any phone older than that, your device will not work with this new update. However, newer devices should have no issues. If you haven't updated your phone already, keep in mind that your apps should also be updated before downloading iOS 11, because older apps will not work once you've updated.
If you don't have enough space on your device to download iOS 11, then you can try deleting your messages on apps like Instagram, Snapchat, and Tinder. You can also delete notes that you no longer need, apps you don't really use, or long text threads with a lot of media. You should also advantage of your iCloud. In addition, you can delete all of the useless pictures and random videos you have in your photo albums.
Using these hacks will probably get you the amount of storage you need to download iOS 11.
Check out the entire Gen Why series and other videos on Facebook and the Bustle app across Apple TV, Roku, and Amazon Fire TV.