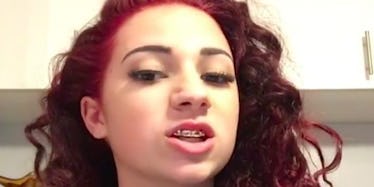 'Cash Me Outside' Girl's Wise Words On Fame Will Totally Change How You See Her
Instagram
The fame game can be a cruel mistress, and apparently the "Cash Me Outside" girl is finding that out the hard way.
Danielle Bregoli has been pretty much everywhere over the last few weeks, totally owning her new role as the most intimidating 13-year-old on the planet.
In fact, sometimes it's easy to forget she's barely even a teenager and, in a rare, frank interview, she has opened up about fame, saying, "I didn't ask for this."
Which is weird because she's a gigantic attention seeker — you can buy a friggin' blanket with her face on it, for God's sake.
But an honest conversation with ThisIs50.com has shown a new side of Danielle, and now I have absolutely no idea what to believe.
She said,
I'm not really putting on a show or anything, I'm just being myself. I didn't ask for this, I didn't call them, they came to me.
It's a reminder she is a 13-year-old girl that has been thrust into the public eye with no idea of how to handle it, and has no clue what makes her so "special."
She added,
Well, apparently, y'all haven't been to Boynton. I think all of us are like that.
Remind me to never, EVER go to Boynton Beach, Florida, if all the 13-year-olds are like Danielle.
At times in the interview, she comes across as awkward and uncomfortable.
And at other points, it's classic Danielle — like when she describes herself as a "crazy bitch" and calls out Kanye West as the worst rapper in the game.
Come ON, now. Whether you're a fan of Kanye or not, you have to accept this opinion is just pure trash.
Hurling shade at Kanye is all part of Danielle's one-sided feud with the Kardashians, in which she has threatened them with violence and dissed Kim K.
Like every viral star before, pretty much everyone expected Danielle to have faded into obscurity by now.
But for someone who insists she isn't "putting on a show," she's been pretty damn successful.
Want more of the "Cash Me Outside Girl?" Read more here:
'Cash Me Outside' Girl's Absurd Police Record Proves She Really Is That Savage
'Cash Me Outside' Girl Was Caught Outside A Bar In Another Insane Fight
'Cash Me Outside' Girl's Instagrams May Be Even More Savage Than Dr. Phil Meme