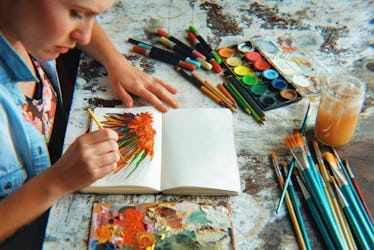 Your Weekly Horoscope Is Here & It's Calling On You To Get Creative
Since all the major astrological activity takes place toward the middle and end of May, the beginning of this iridescent month is all about going with the flow. This makes it the perfect time to do something creative, just for the sake of it. Similar to the peace and calm we got to revel in last week, your May 7, 2018 weekly horoscope provides a lull in all the heavily transformative energy exerting pressure on us all. The only difficulty is that later this week, both Mercury and Uranus will square Mars. This can lead to conflict if you're not open-minded, so as long as you don't take the bait, there's no reason why this week can't be totally enjoyable.
With the sun still gliding through Taurus season, you're prompted to appreciate the beauty that already exists in your world rather than wish you had something more. This, coupled with Venus in Gemini, is infusing you with lightness, curiosity, and an appetite for the finer things in life. Utilize this uplifting energy by silencing your inner critic and engaging in the wonders of your imagination. The fact that Mercury is still barreling through Aries lights a fire on your instinct to create without judgment. With only one more week left of Mars in Capricorn, you have the confidence and determination to actually enjoy yourself.
It's not always easy to give in to the fun of life when you're also experiencing challenging thoughts about your identity, thanks to Pluto, Saturn, and Jupiter retrograde. This week, you should pour your conflicting thoughts into something self-exploratory and artistic. It will feel like a weight has been lifted off your chest.
Aries
You're flushed with impatience and imagination this week. Use this time to infuse some of your current projects with creative flare, to go above and beyond making something even more beautiful or artistic. There's no reason why your career success cannot have a more personal connection with your deepest sensitivities.
Taurus
With confidence flowing through your veins, your mind is focused on reinforcing stability into every facet your life. You should center this prioritizing energy on your social life, on communicating and connecting with others. All your greatest ideas will sprout from stimulating conversations with people that you admire.
Gemini
You've been in touch with the subtleties of your subconscious lately, and there's no reason why you shouldn't delve further this week. Take this time to journal, read, reorganize, redesign, or do anything that brings you closer to yourself. Balance this with appropriate bouts of social activity, as sharing your thoughts with others will remind you of your beauty.
Cancer
You're going to feel pulled to bring your community closer this week, to reinforce connections with people you care about most. You'll find that you can help others and they can help you in return. You should take the leap and propose beneficial partnerships with people you can make serious moves in your career with.
Leo
If you've been bombarded with opportunities, ideas, prospects, and promotions, it's no coincidence. You're going to be pushed to work hard this week and even though the pressure might feel exhausting at times, you'll enjoy every minute of it. However, make sure you put your foot down when you need to protect your energy.
Virgo
You're been emanating independence and a strong will lately. If you feel inspired to expand your horizons and go the distance, embrace it. Also, don't hold back when exposing your successes to others and putting yourself out there. The one thing you need to worry about this week is a potentially tricky personal relationship that may try to distract you.
Libra
There has been a lot of chaos in your personal life and your financial state lately. This week, you'll begin opening your eyes to whatever has been causing these issues and you'll be able to make appropriate changes. Cut down and simplify your priorities while focusing on the things that matter most. If you have to miss out on a few opportunities, so be it. There will always be more.
Scorpio
You're going to feel like the entire world is flushed in rosy hues this week. Even despite the pain you may be going through, you're able to find beauty in the present moment. You will experience a respite from the constricted feeling you've been having and this week, you'll want to bathe in the waters of friendship, love, and creativity instead.
Sagittarius
You're going to experience a blast of energy this week that will encourage inspiration to strike you and allow you to heal on your own terms. You'll feel pulled between wanting to spend time basking in solitude and also getting as much work done as you can. Follow your instincts and do one thing at a time. You'll be surprised by what you can accomplish.
Capricorn
You're still in the midst of your pleasure period this week, and you'll feel like allowing your responsibilities to simmer on the back-burner. You're not used to enjoying yourself, so whenever you feel stressed out, remember that you cannot always force life to work out the way you want it to. Sometimes, you just have to ride each wave as it comes.
Aquarius
You're feeling a lot more domestic lately, and you're in the mood to spend time with your family and closest loved ones. While you might feel like staying in, you should infuse your quality time with creative endeavors, such as redecorating the home, making a home-cooked meal, or even hosting an intimate evening full of bonding for everyone in your circle.
Pisces
It's been so busy lately that you feel like you're bouncing from place to place, from one thing to another. You're making lots of plans and connecting with friends, both new and old. While none of this has necessarily felt "productive" lately, you might just experience the award for all your hustle and bustle this week, so don't stop now.