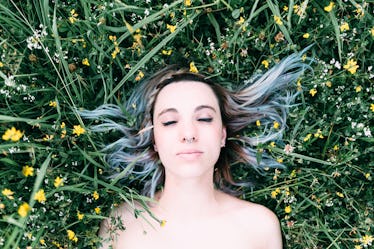 Your Weekly Horoscope Is Here & It's All About Taking Time For Self-Reflection
Our planets have not been coddling us lately. Instead of indulging in your comforts, they've been putting your patience and your strength to the test. With all of the astrological madness that's been going around, I'm sure you could use a break. Luckily, your April 30, 2018, weekly horoscope grants you a respite from the stress, a chance to catch your breath and ruminate on everything you've been through.
If you needed a reason to choose kindness over aggression, it's that we're all going through a period of debilitating change right now. Need I remind you we're still enduring Jupiter, Pluto, and Saturn retrograde. I promise, none of us have it easy.
However, the thunderstorm of chaos will calm down this week. While we're all reeling from the emotionally intense full moon in Scorpio we experienced on April 29, you can take a moment to reflect on what all of this has meant for you. With Venus still in Gemini, the social sphere will be light enough for everyone to go with the flow. Interactions between loved ones won't be as high-stakes as they have been, allowing us all a chance to infuse our relationships with positivity. With Neptune entering a sextile with the sun at the end of the week, your intuition will be on high alert, as will the workings of your imagination. Something beautiful is brewing inside you. Can you sense it yet?
Aries
Things are moving smoothly for you in your social life with Venus still in third house of communication. Finances are no problem for you, either; in fact, the opportunity to make more money has never been better. This is a great week to pull back and make smart, well-thought-out decisions for your career. The results will unfold over time if you plant the seed now.
Taurus
With the sun still pouring electrifying energy into your first house, you're feeling connected to your body, mind, and soul. As the sun forms a sextile with Neptune, the fruits of your subconscious are as rich as can be. Take a moment to journal this week, to meditate, or daydream. Ideas may sprout like wildflowers if you spend time watering them.
Gemini
With the sun lighting up your 12th house of spirituality, you're in tune with your deepest needs. You may feel like you're basically psychic as it forms a sextile with Neptune. This, coupled with Venus in Gemini, makes you an extremely calming person to be around. Make sure you spread the wealth of your energy toward your loved ones this week.
Cancer
Your social circle is stable, exciting, and your greatest source of comfort. With the sun making moves in your 11th house of community, you're moving through new environments with ease. You're in a period of competence and confidence with the western sector of your chart all lit up with energy. You should find a way to maneuver this power toward your life goals.
Leo
You've been feeling yourself lately with the sun shining a spotlight on your 10th house of social status. You're on the brink of some serious excitement in your career. Some of it might be stressful, so be prepared for challenges. Uranus will join the sun in a few weeks, transforming your trajectory. It may not seem perfect at first, but eventually, it will be.
Virgo
Your career is giving you whiplash lately, but that's OK. The money reflects your hard work. With Venus in your 10th house of social status and prestige, you're working with your colleagues and clients with ease. Prepare to experience the toll of your schedule in a few weeks, so make sure you get plenty of rest to prepare for it.
Libra
Your earnings may feel more meager than usual with Pluto, your financial planet, in the midst of retrograde. Uranus is also pouring unstable energy into your seventh house of partnerships, making long-term love a difficulty. However, Venus is still in a harmonious place for you. Instead of worrying so much, take it easy and enjoy the simple pleasures in life.
Scorpio
With both Venus and the sun in your seventh house of partnerships, all your attention is on your love life. Whether you're single or not, your thoughts may be consumed by romance. This could divert attention from work, especially with Jupiter, your financial planet, in retrograde. Try to practice balance with your concerns. Don't let things get out of hand.
Sagittarius
Venus is pouring love into your seventh house of partnerships. After so many issues in your love life, you're eating the romance right up. You're also in the midst of many financial opportunities with Mars electrifying your second house of money. You feel good right now, but don't place too much of your ego in the glamour. In a few weeks, Uranus will challenge it.
Capricorn
You're probably having more fun than any other zodiac sign at the moment with your fifth house of pleasure oozing excitement from the sun. Lean into this period of good spirits, and don't feel guilty about not working as hard as you normally do. Everyone needs to recharge their energy once in a while. This is your time to shine.
Aquarius
The sun is still in your fourth house of home and family, bringing you closer to your roots. You're having the time of your life reconnecting with the people who are most important to you. Since the sun is also your love planet, you may meet a potential lover through your family. You might also make a serious commitment with your partner, like starting a family (and hey, that might not necessarily mean children — perhaps you two could use a little fur-baby in your life?).
Pisces
With the sun lighting up your third house of communication, exchanging ideas and diving into intellectual pursuits is right up your alley right now. As the sun forms a sextile with Neptune, your ruling planet, you'll feel like you're burgeoning with intelligent things to say. However, since Jupiter is still in retrograde, none of this will help your career, so don't worry about it.