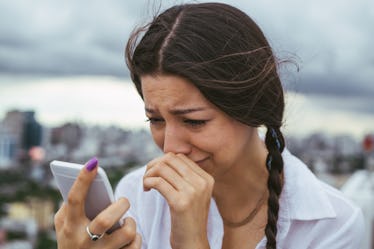 If You Don't Have Snapchat's 2017 Memories Story, Don't Panic — It's Coming
Have you seen a Story compilation on Snapchat lately and wondered how your friend created it? Well, it's actually Snapchat's new 2017 Memories Story, and it's a collection of Memories curated by Snapchat to help you relive all of your best moments from the past year. If you haven't yet seen yours while scrolling through the app, you're probably wondering, "Why can't I get Snapchat's 2017 Memories Story?"
The good news is that you can (and you will) get access to your very own 2017 Story. The app rolled out the new feature this week, releasing the 2017 Story on Wednesday, Dec. 27. According to a spokesperson for Snapchat, it's a slow global rollout, so that could explain why some of your pals are sharing their Stories while you are patiently waiting for yours to arrive.
It will be available in your Snapchat app soon, though, young grasshopper (along with your Karate Kid Snaps?). And when you get it, it will definitely be worth the wait. Snapchat created the 2017 Story by looking at different markers in your Snap Memories and organizing it based on different locations, dates, and captions used in your Snaps this past year. So, your 2017 Story will be all about you (like it should be).
Once again, don't worry if your 2017 Story hasn't yet shown up in your Memories feature of the app, because it's a slow rollout. However, it never hurts to make sure that your app is updated, too. Don't fret over waiting on your 2017 Story to arrive, though. In the meantime, you can prepare yourself for all the fun you can have with it once you get it.
For starters, you can edit your story using Snapchat's creative tools on the individual Snaps. And while you can delete Snaps that you'd like to leave behind in 2017 forever (like your 2 a.m. sing-along to Adele's "Hello"), you unfortunately cannot add in any Snaps that weren't originally included in the Story. While it might seem like a bummer that you can't spice up your Story with a favorite Snap that didn't make the cut, you can make up for it by adding festive stickers and effects to the photos and videos that Snapchat deemed worthy of your 2017 Story.
Once you've added your personal touch to your 2017 Story, you can save it to your phone and have it ready to send to all of your friends and family who truly appreciate a unicorn puking rainbow selfie (naturally).
Snapchat isn't the first in the end-of-year game to serve up some year-in-review realness. So, while you wait to see your 2017 Story, you can check out some of your other 2017 activity. When it comes to music choices, for example, you can gain insight on your listening habits when you jam out to your Spotify 2017 Wrapped playlist for the rest of the year. I was delighted (and not the least bit surprised) to find a healthy dose of Spotify's most popular artist, Ed Sheeran, on my own playlist.
Netflix also offered up some intriguing year-end statistics, as the streaming service revealed that a few of it's most-watched titles included The Crown, Stranger Things, and Narcos. If those popular titles aren't in your queue yet, you could fire up a marathon — and then your Snapchat 2017 Story might be there waiting for you before you even reach episode two.
Check out the entire Gen Why series and other videos on Facebook and the Bustle app across Apple TV, Roku, and Amazon Fire TV.