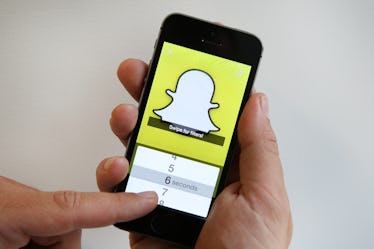 This One Detail About 2017 Snapchat Memories Stories Might Bum You Out
Peter Macdiarmid/Getty Images News/Getty Images
Snapchat recently introduced a seriously cool feature that's perfect for some end-of-the-year reminiscing. If you haven't checked it out yet, then you might want to open your Snapchat app and take a peek at your "2017 Memories Story." While the Snaps and videos curated for your Story are pretty much on-point when it comes to a snapshot of your 2017 Memories, you might find yourself wondering, "Can you add Snaps to your Snapchat Memories Story?"
In a short (and possibly disappointing) answer, no. Snapchat created the 2017 Story by using your personal Snaps and videos that were saved to your Memories throughout the year based upon a "combination of signals such as the location, date, or captions associated with each Snap," according to a Snapchat spokesperson. While you can't add photo or video Snaps to your 2017 Story, you can edit or delete the ones that are already in it.
If there is a Snap included in your 2017 Story that is just a definite no-go for you (like that lovely photo captured mid-blink), you can take a few easy steps to remove it from your Story. First, you'll open up the Memories feature, which is located right below the capture button. Then click "Edit Story" at the top where it says "A Look Back at 2017." Finally, select the Snaps that don't suit you, and delete them by tapping the "X" in the upper left corner of the Snap.
Removing your not-so-favorite Snaps from the bunch isn't the only way to personalize your 2017 Story. You can also use the creative tools on individual Snaps to really make them your own. To start adding stickers and effects, you'll need to get back to the "Edit Story" page in Memories. Then, choose the Snap that you think would benefit most from some fun effects (like a very fitting champagne toast sticker). Once you're in the Snap, you can toy around with the creative tools until you've designed your masterpiece. When you've reached Snap perfection, tap "Done" in the upper left corner and then hit "Save Changes."
With the winning combination of Snapchat's curation and your expert embellishments, you'll want to share your 2017 Story with everyone. Thankfully, Snapchat likely figured that might be the case, and they made it super easy to share your compilation of special Memories. I'm sure this version of a year in review will be much more well-received than those pages-long family newsletters that people send out to friends and family this time of year — no one cares about Johnny's fifth-place science fair "win."
To spice up the holiday greetings this season, throw your 2017 Story into the mix. All you need to do is share your your 2017 Story by going to the Memories feature and tapping on the three vertical dots in the upper-right corner where it says "A Look Back at 2017." Then, click "Export Story" to save the Story to your phone. Once you have it saved to your camera roll, you can send out your much more creative personal "newsletter" to whomever you'd like.
Most of your besties are probably creating a 2017 Story of their own, since more than one-third of Snapchatters use the Memories feature daily, according to Snapchat. You can swap 2017 Snapchat Memories Stories the way you used to trade grade school pictures (blunt bangs and all). With the ability to edit, you can personalize the perfect greeting for each one of your pals and look forward to creating even more Snap Memories in 2018.
Check out the entire Gen Why series and other videos on Facebook and the Bustle app across Apple TV, Roku, and Amazon Fire TV.